For this month the winners are joannie and sandi0805.
I am off to get your G.C.
This month we will do a different challenge for 3 in a Row. This challenge will consists of 5 rows that will focus on theme, colors, embellishments, techniques, and manufacturer.
You must choose a certain amount as stated below for each row.
Row 1               Row 2                     Row 3                                  Row 4                    Row 5        

    1                  2 or more              2 or more                           your choice                 1

The colors black, white, and tan are freebies
Please post the items you have chosen along with your submission.
*BONUS*  entry if you scraplift any of my layouts!
Open to paper, digi, hybrid, cards, crafts.
You may combine with  other challenges that allows it.
Multiple submissions are allowed.
You have until midnight  July 31 to post your submissions to this thread. A random winner will receive a $5 ACOT GC from me!
If you have any questions, please send me a pm.
 HAVE FUN!
Here is the board to choose from.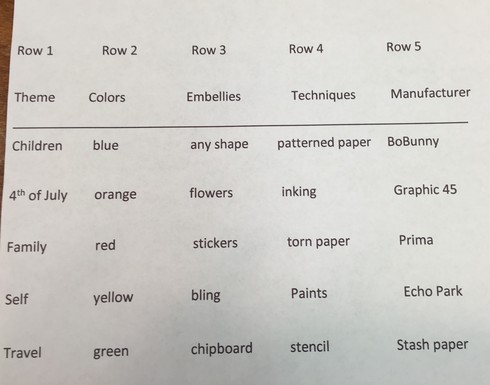 Here is my example. Here is what I chose.
Row 1           Row 2                                        Row 3                                            Row 4                         Row 5
self         blues and reds,                  circles,flowers, stickers, and bling         Patterned papers          Stash paper