I am amazed at all the inspiration you all got from this challenge! Awesome song choices! I want you to know that now I have many of those songs stuck in my head lol! Thanks to everyone that played along!

The winner, chosen using RandomNum iPhone app, is…
#14 blbabe1234

Congratulations Brandy!!!  I have sent out your gift card! Please let me know if you don't receive it.
________________________________________________
For this month Cherries I'd like you to get your inspiration from a song that was popular the year you graduated high school. You can do a Google search of popular songs for that year and find a list of songs. You do not have to use the title of the song, you can get inspiration from it in any way.
Open to paper, digi, hybrid, cards, crafts, or whatever this inspires you to create.
You may combine with one other challenge that allows it.
Multiple submissions are allowed up to a limit of 5.
You have until midnight (whenever midnight is for you) July 31st to post your submissions to this thread. A random winner will receive a $5 ACOT GC from me!
Most of all have fun!
I graduated in 1972 (yes I am dating myself lol) and I chose the song "Anticipation" by Carly Simon for my inspiration. The title of the song is perfect for this cute photo of Aiden waiting for the first batch of cookies we were baking to come out of the oven.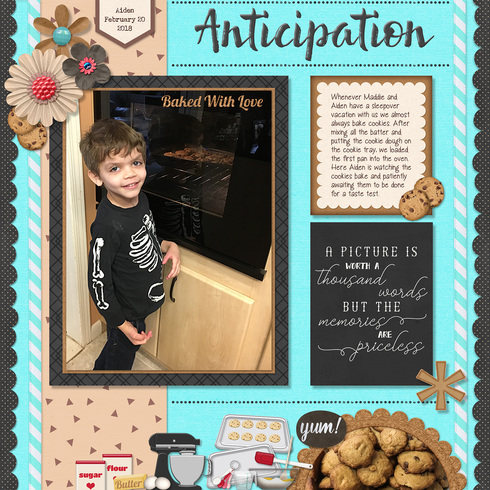 Participants:
1. emmapaige
2. Yankeegirl
3. meterr70
4. rachel0017
5. joannie
6. joannie
7. lissahope26
8. Tammey
9. joannie
10. lissahope26
11. joannie
12. MTCanuk
13. joannie
14. blbabe1234
15. karen c.
16. Sandi0805
17. Sandi0805
18. beachlover
19. Sandi0805
20. Retiree3
Save
Save