I got a real kick in seeing all the "bad" furbabies. Its nice to know mine aren't the only ones who dig! With that said..the lucky winner of an ACOT gc is KarenSay/Karen! WTG Karen!! I'll get that to you sometime today!
***********************************************************************************
Does your dog dig or chew on your shoes? Does you cat scratch up the furniture? Is there a bird in your neighborhood that's mean? Or maybe there's a squirrel who steals the bird seed or eats the fruits of your tree.  If your furbaby gets in trouble and you have PROOF -- whether it be WHILE your pet is being bad OR after the fact.....then this challenge is for you!
I want to see your pet being naughty! And while some of us might not have pics WHILE the naughty act was taking place, it can be the photo AFTER it happend. So lets journal about it too!
I haven't done my example yet, BUT I do have photos sitting on my desk as I type of Jasmine DIGGING her way to CHINA! LOL And the look on her face is PRICELESS!
**Edited with Example**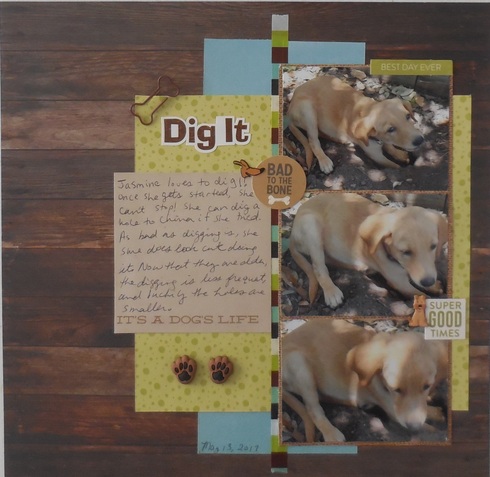 So here are those rules!
1. Showcase your pet (or any animal) being NAUGHTY.  I also want to see JOURNALING
2. You may combine with any other August Challenge
3. Due Aug 31st
4. Please post your work here.
5. You may enter multiple times, but please limit yourself to THREE entries
6. BONUS -- since this is one of my FAVE challenges, if you scraplift one of my PET layouts, I'll throw in an extra entry
Have fun!
Participating Cherries:
1, KarenSay/Karen
2. pawprints/Barb
3.mrozwood/melanie
4.pawprints/Barb
5. lissahope26/Melissa
6. retiree3/Donna
7. tammey
8.tammey (*bonus)
9.mgehrke/Mildred
10.mgehrke/Mildred (*bonus)
11. sherelm/Sher
12. beachlover/Ann
13. KarenSay/Karen
14. KarenSay/Karen