Due to the recent MB upgrades, I am extending the deadline to October 8th.
Just 1 simple word for your September Prompt
"Transportation".
Use it for whatever kind of transportation you want.......bikes, buses, boats/ships, airplanes, cars, trucks, etc.
I do want to see the transportation in one or more of your photos.
You MUST also include 3 or more STICKERS, other than alphas.
As you can see my transportation is an airplane.
Photos of DH and I on our flight to Mexico, October 2017.
Let's Go!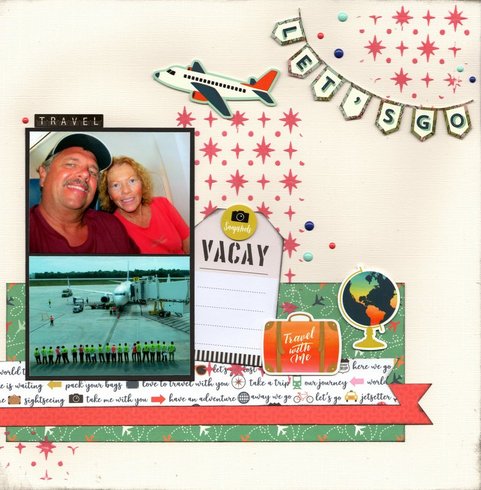 For the fine print....
This can be a paper or digital layout ONLY! All work must be new. You may do this multiple times. You may combine with one other challenge that allows. Please link your work here. Deadline is September 30th. A random winner will be selected for a $5 ACOT gift card from me! If there are more than 20 participants I will draw a second name for a RAK too.
----------
Cherries Participating:
1. Shannon (1scrappymom)
2. Susan (shoorn)
3. Chris (emmapaige)
4. Brandy (blbabe1234)
5. Mildred (mgehrke)
6. Mildred (mgehrke)
7. Louise (traveler)
8. Karen (karen c.)
9. Meli (Meli)
10. Jill (JillinIN)
11. Loreen (LoreenC)
12. Ann (beachlover)
13. Leslee (MTCanuk)
14. Joannie (joannie)
15. Joannie (joannie)
16. Laura (Laura K)
17. Sandi (Sandi0805)
18. Sandi (Sandi0805)
19. Sandi (Sandi0805)
20. (ajmaluck)
-------------------------
Thanks so much to everyone who was participated in my Prompt Challenge!


The Winner drawn according to Random.org is......3. Chris (emmapaige)!


Congrats Chris! I'll be buying your gift card shortly!




Winner of the RAK is....

8. Karen (karen c.)!


Congrats Karen! Please pm me your name and address so I can get your RAK in the mail.