Thank you to all the cherries who gave watercolor techniques a try for my challenge, I LOVED seeing all of your work!  The winner for the challenge, according to random.org is...…..#19 sweetsour (Karrie)!! I'll be sending your gc to you shortly!

Ok cherries, I have to be honest and tell you I haven't pulled it together the last few days to get my October challenge prepared, or a sample for you. Things got away from me this weekend LOL So.....what this means for you is that I'm extending the Watercolor challenge through to October 31st, AND I'll allow multiple entries of any kind (layouts, cards, projects) up to THREE.
Hey cherries, welcome back to the Technique Challenge! For September's challenge we are going to play with WATERCOLOR techniques 
So in preparation for this challenge, I've been watching a lot of YouTube process videos on all different types of watercolor techniques.  There are SO many ways to incorporate a watercolor look onto your pages, and you don't necessarily have to have watercolors or special paper to do it. 
**TIP**
If you don't have watercolor paper, many of the process videos I watched recommended prepping your cardstock with gesso, to avoid your paper from warping.
I used a really inexpensive set of watercolors on my sample layout.  I started with 12x12 watercolor paper, a plus sign stencil & gel medium.  After that dried, I simply painted brush strokes with a larger sized brush.  The gel medium resisted the watercolor, allowing it to show through the brush strokes.  I also added a few splatters by tapping my brush. 
**TIP**
while I'm glad I went cheap on the watercolors, I will invest in a nicer brush or two.  Cheap brushes leave stray hairs on your project & it's a pain to remove them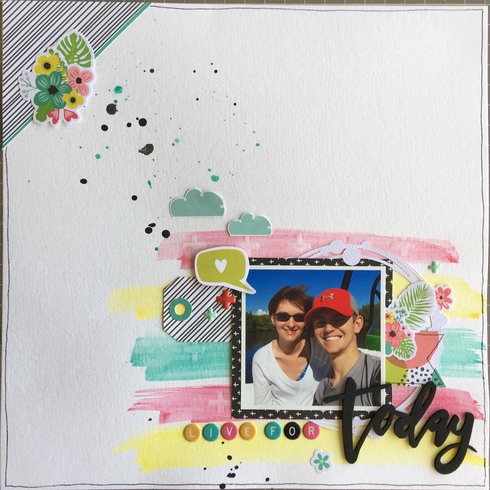 On my card sample, I used a really popular technique called the packaging technique.  Any plastic packaging will do, and you can achieve this look by using inks or mists or something similar if you don't have watercolors.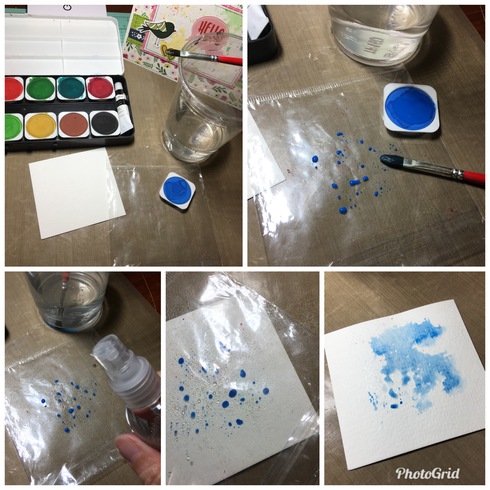 The last technique I tried was using a Ranger water brush.  I don't want this post to get too lengthy, so if you want to check it out it's
in my gallery
. I used the brush to color in some leaves on a card.  You don't have to limit yourselves to the techniques I used for this challenge.  If you have another technique for watercolors, please share it with us!  I know a lot of you have gelatos, which I don't have. 
The only requirement this month is your project must have a visible watercolor effect (meaning not just splatters 
)
and please list what technique you used so we can all learn from each other!
The Rules:
Open to NEW layouts, cards or altered projects (no digital)
You can submit ONE of each type (one layout, one card, one altered project) for a total of 3 maximum entries
You can combine with any other monthly challenge that allows
No gallery spot, please link your entry in this thread
Deadline is midnight, September 30, 2018
A winner will be chosen to receive a $5 ACOT gift card from me
Most of all...……..get a little messy and have FUN!
Participants:
1. emmapaige
2. Meli
3. lissahope26
4. karen c
5. Retiree3
6. 1scrappymom
7. Tammey
8. Linda S
9. DN in MN
10. Deanna13
11. joannie
12. joannie
13. blbabe1234
14. Berta R
15. Deanna13
16. JAire
17. LoreenC
18. Deanna13
19. sweetsour