Thank you all for participating in my challenge! I loved seeing the "group photos"!
Random.org selected Tammey as the winner of the $5 ACOT GC. Congrats Tammey! I"ll order it for you shortly!!
************************************************
September is usually "back to school" for most people. And when I think of "back to school", I think of Picture Day. We all remember we had our individual pictures taken and we had a "group" picture. With that said, the theme for this month's Pet Challenge is "Group Photos".
Group usually means 3 or more, but in this case, I'll say "more than one". If you have multiple furbabies, this will probably be alot easier. At least one photo must be a group shot - 2 or more of your furbabies. But if you only have one, no worries. Do you have a photo of your children with the family dog? That counts. Do you have a photo of your DH holding 2 of your kittens? That counts too! And what if you do not have furbabies? A group of birds out on the lawn or some cattle as your drive by counts too.
Here is my example - a photo with Jeffrey, Ruby and Penny.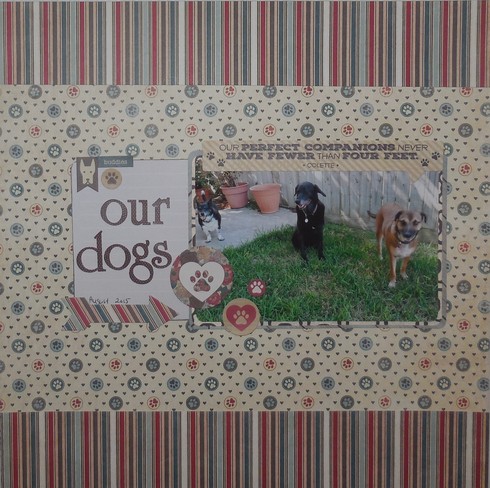 So here are those rules!
1. At least one photo must be a GROUP PHOTO. And in this case, meaning TWO OR MORE.
2. You may combine with any other September Challenge
3. Due Oct 5th
4. Please post your work here.
5. You may enter multiple times, but please limit yourself to THREE entries
6. BONUS -- since this is one of my FAVE challenges, if you scraplift one of my PET layouts, I'll throw in an extra entry
7. EXTRA BONUS -- if you get EVERYONE in your GROUP PHOTO to LOOK at the camera, I'll throw in an extra entry as well. I know how hard that is to do for both furbabies and the human kind.
If you have any questions, please do not hesitate to ask me.
As always, have fun!
Participating cherries:
1. StacyLee/Stacy
2.mgehrke/Mildred
3.mgehrke/Mildred (*bonus)
4.mgehrke/Mildred (** extra bonus)
5.mgehrke/Mildred
6.pawprints/Barb
7.pawprints/Barb (*bonus)
8. LoreenC/Loreen
9.Deanna13/Deanna
10.Karen C/Karen
11. Karen C/Karen (*bonus)
12. Karen C/Karen (** extra bonus)
13. blfonty/Bonnie
14. Retiree3/Donna
15. 1scrappyMom/Shannon
16. Deanna13/Deanna
17. Karen C/Karen
18.Karen C/Karen (*bonus)
19.Karen C/Karen (** extra bonus)
20. Tammey/Tammey
21. Tammey/Tammey (*bonus)