I am SO sorry for the delay in picking a winner for my challenge. You cherries did an awesome job with different stitching techniques!!  The winner, according to random.org is...……#23, Tammey! Congrats Tammey, I'll be sending your gc to you tonight!
Hi cherries!  Thank you to everyone who participated in the watercolor technique challenge, there were so many beautiful entries! Hope you all enjoy what I have for you this month!
For November I'm going to challenge you to STITCH on your project!  A stitched look can be achieved in many different ways, you don't have to have a sewing machine!  Of course, using a sewing machine is an option, but you can also hand stitch with a needle & embroidery thread or twine, you can faux stitch with a pen, I think some of you use SewEasy by WRMK (and maybe you needed this nudge to dig it out
LOL.  There are also dies that will emboss a stitched look onto your paper.  For my sample, I used my sewing machine: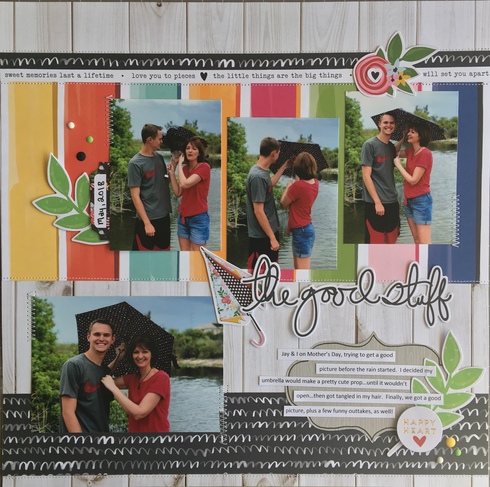 I stitched the length of my patterned papers in some spots, and also added a fun zig-zag onto some of my photo edges.  I've heard feedback from some cherries in the past that faux stitching is challenging for you.  I thought I'd share how I faux stitch, because I'm a perfectionist and have to have even, straight lines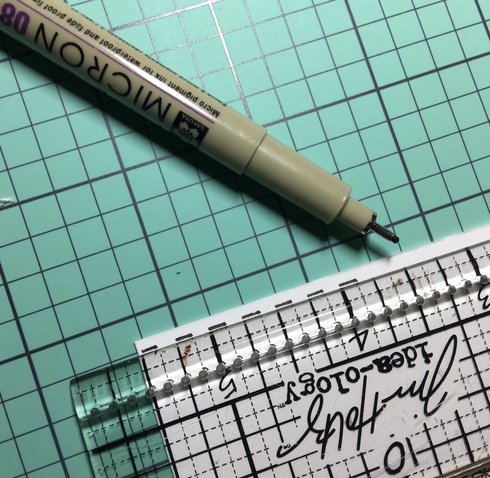 When I faux stitch, I used a clear ruler so I can see that I have everything lined up perfectly.  I know it looks like this picture is upside-down, but I prefer this edge of my ruler.  Using a pen, I draw a 1/8 inch line, then skip the next 1/8, then repeat.  This will give you straight lines with even spacing in between.  
The Rules:
Open to NEW layouts, cards or altered projects (no digital)
You can submit ONE of each type (one layout, one card, one altered project) for a total of 3 maximum entries
You can combine with any other monthly challenge that allows
No gallery spot, please link your entry in this thread
Deadline is midnight, November 30, 2018
A winner will be chosen to receive a $5 ACOT gift card from me
Most of all...……..have FUN!
Participants:
1. Berta R
2. blfonty
3. Deanna13
4. shoorn
5. joannie
6. Linda S
7. oceanbreezes423
8. Becky Bitting
9. lissahope26
10. JAire
11. Retiree3
12. Krystle
13. wimom (layout)
14. karen c
15. AimeeK
16. mgehrke
17. sweetsour
18. Sandi0805
19. wimom (card)
20. emmapaige
21. Scrappydistractions
22. Tammey (layout)
23. Tammey (card)