You cherries really rocked this challenge, it's so fun to see the different ways each of you worked with both of these sketches!  I used random.org to select a winner, and the winning number is...…….#1 mgehrke (aka Mildred)! Congratulations, I'll email Heidi the list of winners today!
For your third challenge I'm providing you with two sketches. My challenge to you is to
take a little of this AND a little of that
from each sketch and come up with your own unique creation. This type of challenge might look familiar to those of you who have played along over at Scrap Our Stash.  The challenge is really fun, so I thought I'd give you cherries my own version! Here are your sketches: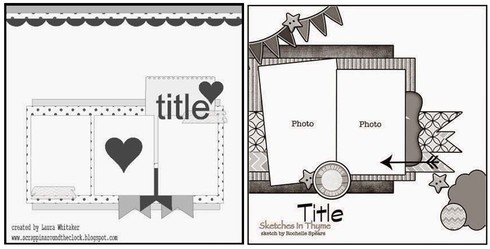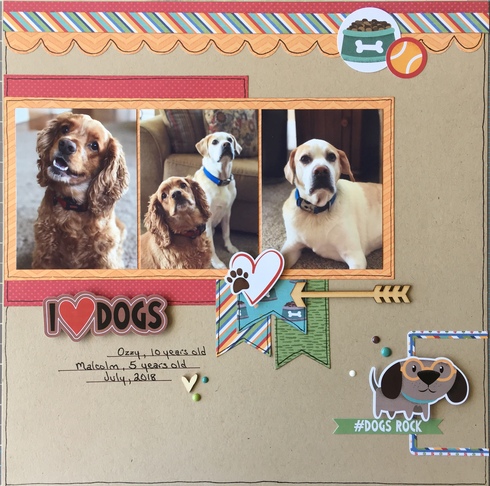 In my sample I used the top scalloped border, 3 photo placement and banners from the first sketch.  From the second sketch I pulled the patterned paper square for the photos to rest on, the cluster at the bottom right and the arrow.  I selected one page sketches because I rarely scrap a two-page layout.  If you prefer a double page spread this is still a great challenge for you because the sketches can be combined in so many different ways!
I've created a gallery spot for you to submit your entries.  Feel free to add them to this thread, too, but please check the box for Guest Designer Challenge #3 when you post your entry in the gallery.
Rules:
Create an original layout using parts of both sketches to create your own unique design
Open to new layouts only
One entry per person
You may combine with one other November challenge, but not another Guest Designer challenge
Deadline is midnight, November 30, 2018
One randomly chosen winner will be selected to win a $5 gift card, courtesy of ACOT!
Participants:
1. mgehrke
2. shoorn
3.Deanna13
4. Becky Bitting
5. karen c.
6. joannie
7. blbabe1234
8. lissahope26
9. Retiree3
10. Tammey
11. Linda S.
12. sweetsour
13. 1scrapdiva
14. suemo