Thank you to everyone who participated in this challenge. I loved all the creativity. Sorry I'm kind of late picking a winner, but without further ado....
Random.org selected #20 Suewho372/Susan! Congrats Susan!!! I'll try to order your gc tonight, if not...sometime during the week.
***************************************************
Good evening cherries. Finally posting the pet challenge. This challenge will continue on until Jan 12, 2019.
This months challenge will be a simple one. The subject can be any type of animal -- your pet, your DD's pet...or a squirrel you see in the yard or your grandson feeding the ducks at a pond. Even zoo pics count. The only thing I ask of you is your title MUST include an animal in it - such as "who let the dogs out?" or "you're the cat's meow", which are called "idioms".
My example is below: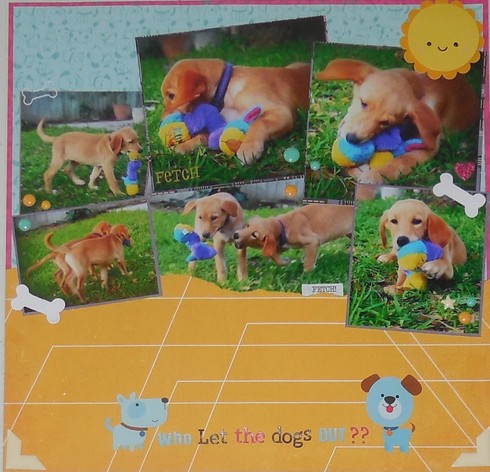 I chose "who let the dogs out?" for my title featuring Shelby and Jasmine when they were super little.
So here are those rules!
1. Showcase any animal with an "idiom" as the title.
2. You may combine with any other November, December OR January Challenges
3. Due Jan 12, 2019
4. Please post your work here.
5. You may enter multiple times. There is NO LIMIT
6. BONUS -- since this is one of my FAVE challenges, if you scraplift one of my PET layouts, I'll throw in an extra entry
If you have any questions, please do not hesitate to ask me.
As always, have fun!
Participating cherries:
1. JAire /Joyce Ann
2. sweetsour/Karrie
3. scrappydistractions/Lisa
4. Tammey/Tammey
5. Tammy/Tammey (*bonus)
6. 1scrapdiva/Robin
7. 1scrapdiva /Robin (*bonus)
8. emmapaige/Chris
9. oceanbreezes423 /Susan
10. oceanbreezes423 /Susan (*bonus)
11. Deanna13/Deanna
12. Deanna13/Deanna
13. wimom/Rhonda
14. Becky Bitting/Becky
15.
shoorn/Susan
16.
shoorn/Susan
  (*bonus)
17.
blfonty
/Bonnie
18.
blfonty
/Bonnie (*bonus)
19. Berta R/ GmaBerta
20.Suewho372/Susan