The random number generator winner is No. 3, Retiree3! And I am going to go nuts and declare Yankeegirl as a second winner because she went nuts and did four squirrelly cards.
Sending your gift certificates shortly!
Thanks to everyone for joining the challenge! 
************************
Who's joined:
1. StacyLee
2. 1scrapdiva
3. Retiree3
4. MTCanuk
5. Charleneanne
6. Tammey
7. Yankeegirl
8. Yankeegirl
9. Yankeegirl
10. Yankeegirl
11. Shoorn
***************************
Charleneanne is taking a break from hosting the Card Challenge so I am filling in for a bit. Hope you all will join me in making a card this month!  In honor of National Squirrel Appreciation Day on Jan. 21, the challenge is to make a card featuring a squirrel! It's easy to adapt this critter to several types of cards. Some sentiment ideas to get you started:
"It's Squirrel Appreciation Day – Go Nuts!", which easily becomes "It's Your Birthday – Go Nuts!" Forgot someone's birthday? "Aw-w-w Nuts!" For Valentine's Day, "I'm Nuts (Nutty) About You." For a get-well card: "Hope you are feeling bright-eyed and bushy-tailed soon." Squirrels also like to say Hello and I'm Thinking of You.
Squirrels often are shown holding acorns, but they also can hold a heart, gift, balloon, flower, or whatever else fits your card theme. You may have squirrel stickers, die cuts or paper in your stash of fall theme products, or you can make your own die cut if you have a Cricut/Silhouette. Free squirrel clip art also is available online; I found a cute one at clipartpanda.com. It downloaded quickly, and I was able to copy it into Word and then resize. I'd also be happy to mail some of these little guys to anyone who would like them (PM me your name and address).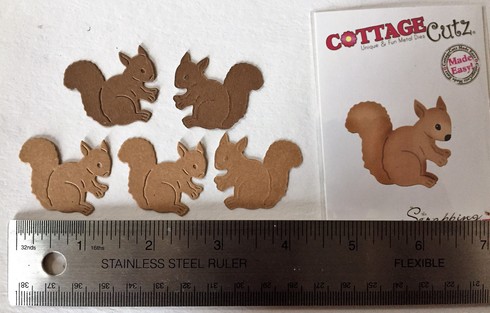 Finally finished my Squirrel Appreciation Day card, just in time to mail to my son. Front has a hole cut out to give a partial view of the squirrel inside. The front: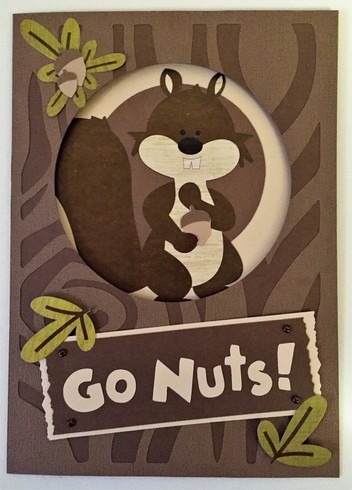 And inside: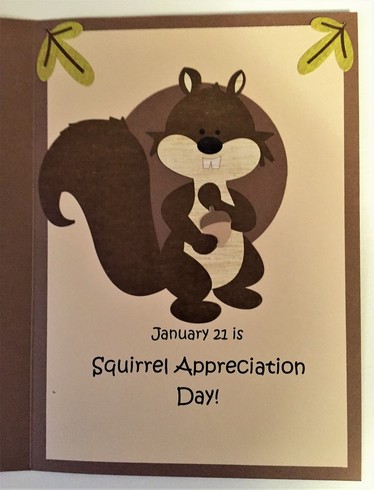 Here several other squirrel cards in my gallery, including this one with a Cricut squirrel: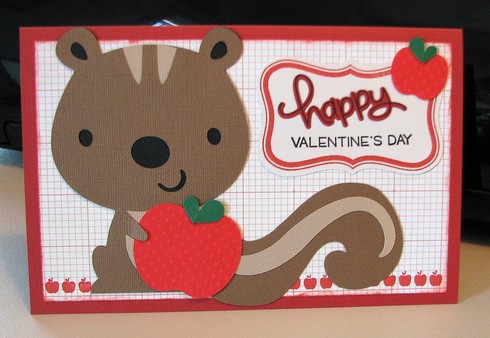 And these: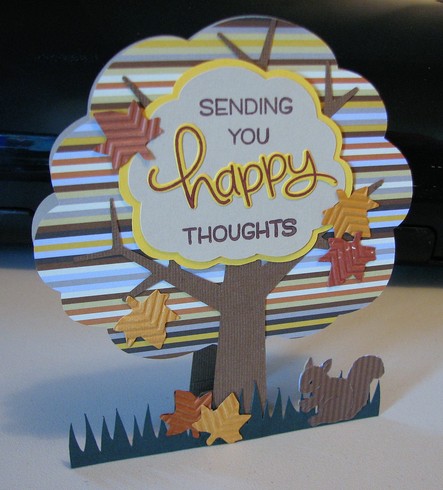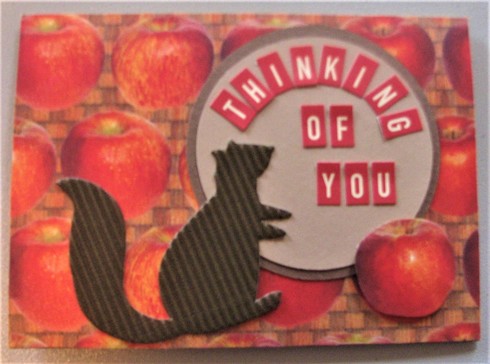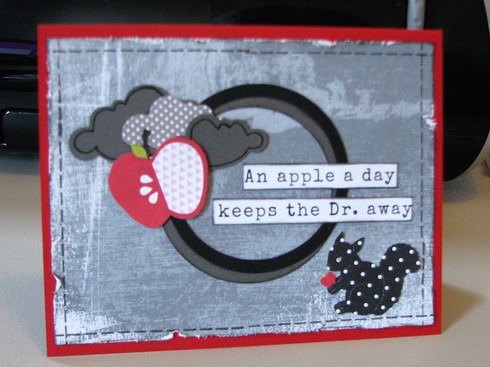 OPTION: If you just aren't nuts about a squirrel card, I will offer the option to make a card featuring any other animal, but I hope to see lots of you get squirrelly!
So the
rules: Must be a new, paper card (no digi), featuring a squirrel (or other animal, option above). Post to this thread by 11:59 p.m. Jan. 31. You may go nuts and enter as many times as you want, and you may combine with one other challenge if it allows. A $5 ACOT gift card will go to one Cherry! Please ask if you have any questions, and PM me if you would like some of the little Cottage Cutz die cuts.