*** 3/1/19 UPDATE ***

Loved everyone's layouts!  I went back and counted all the entries and numbers based on how many opposites you used.  There were a total of 38.  Random number generator picked 31, and that number was assigned to Yankeegirl!  Please PM me your address and I will get a prize out to you soon.
Good morning, Cherries!  I will be hosting today's challenge.  Did you know today is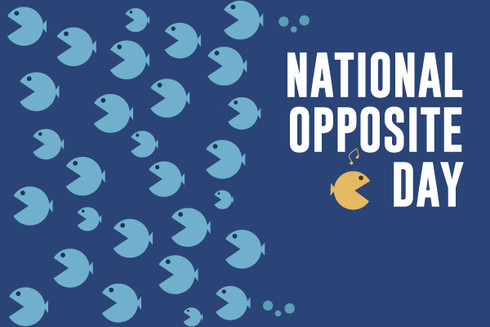 I don't want to make things too difficult, so interpret this in any way you like.  But here are some things I was thinking of.
1.  Use
predominantly opposite colors
on the color wheel.  So that would be
blue/orange
,
yellow/purple
, or
red/green
(hmm... do I see combining possibilities with some January challenges with this last combo?)
2.  Use 2 opposite adjectives in the title
3.  Incorporate a "negative" image.  (Masking/stenciling, or quite literally, incorporate a photo negative)
4.  Use 2 arrows pointing different ways
5.  Use a supply in a way that is different than its original purpose (e.g., using bubble wrap to stamp, cutting embellishments out of journaling cards, etc.)
6.  Or just get creative!
You don't have to do my challenge to get credit for the 15/30, but I will award a random prize from entries that do meet the challenge criteria.  AND you will get one entry for each "opposite" thing you incorporate, so please list them out.
Open to ANYTHING: layouts, cards, projects, paper, digital, etc.

May be combined with monthly challenges, challenges at any other site.

May NOT be combined with other 15/30 challenges.

due Feb 28.

**Updating with my example:
I used blue/orange combo, opposing arrows, "opposite" photos, opposite words (squish & stretch), and I flipped one of my R's just for fun.