The winners for this month are lissahope26 and Becky Bitting. Congratulations and thanks to everyone who participated. Your G.C. have already been purchased.
 For this challenge, you will use a container  or a box and put at least 15 items in this container that you would like to use up. You can put more in the container if you so choose. Take a picture of your completed stash and submit it on this thread. Everytime you use 5 or more items from this container, you can post your LO, card, or project on the same post. There is no limit to the number of entries you can do.
        For my  container, I put some of the following items (just to give you an idea.)-
1.  a bag of circles
2. flowers
3. Project life cards
4. a bag with various titles
5. red and blue sticker alphas
6. metal clocks and gears
7. a bag of tags
8. some buttons
9. sequins
10. enamel dots
11. bag of leaves
12. pieces of ribbon
13. some frames
14.several sticker sheets
15. Tim Holtz word stickers
16. a container with various embellishments
You may use anything that is not in your container, but the object of this challenge is to try and use up as much as possible.
If you have any questions, please send me a pm. 
Here is my container of stash materials.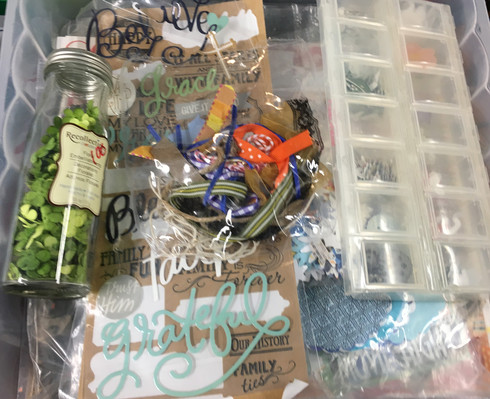 Rules
This can be a paper  layout, card, or project.
All work must be new. 
 No limit on the number of entries
.
You may combine with other challenges that allow it.
Please link your work here. Deadline is Feb. 28, 2019
A random winner will be selected for a $5 ACOT gift card from me!
*** You must list the things from your stash box that you use with each LO.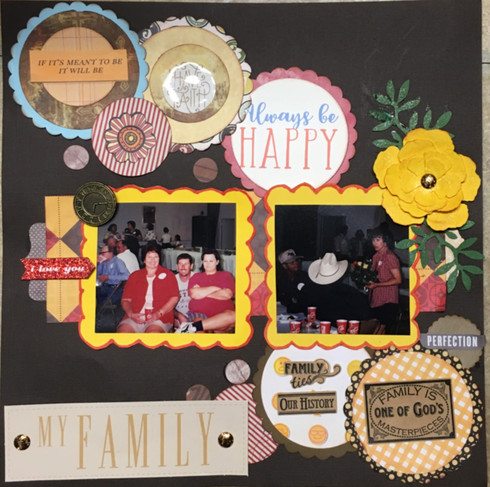 Here is my LO. I used the following from my stash box-
1. flower
2. frames
3. metal clock
4. word stickers
5. circles
6. a title
7. I love you sticker
8.tabs
9. leaves
I used the following from my stash box.
1. paper
2. buttons
3. corner
4. title
5 hearts
6. tabs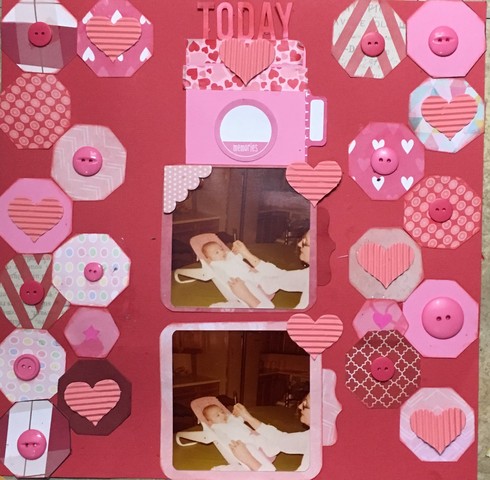 I used stars, alphas, buttons, twine, hello tickets, speech bubble, and a brad.