This month's gift card winner, as chosen by random.org, is #9: 
EmtAimee734!
The winner of the RAK is #16: MTCanuk!
Congratulations to the winners, and thank you to everyone who entered this month!
Our featured book this month is The Curious Incident of the Dog in the Nighttime by Mark Haddon. Curious Incident follows Christopher Boone, who wakes up one morning and discovers his neighbor's dog, Wellington, lying in her front yard, dead from having been speared with a garden pitchfork. Against his father's wishes, he sets off on a quest to find out who has killed Wellington, despite the fact that he has difficulty talking to new people. He records all his findings in a notebook, which he calls his "murder mystery novel". During his investigation, he uncovers some truths about himself, his neighbors, his father, and his mother, who has been dead for two years.
(This is one of those books I picked up in the store because I liked the interesting title, but it ended up being exactly what I needed at that moment in my life. Though it is never expressly stated in the book, Christopher exhibits many tendencies indicating he might have autism, and I had an autistic student in my class that year. I saw so much of him in Christopher, and no matter how many times I reread this book, it still remains as amazing and important to me as it did when I read it the first time.)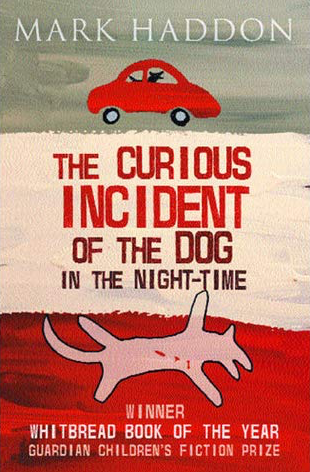 OPTION 1: Whodunit
For this option, frame the theme of your page as a mystery. Mess on the floor when you came home from work? Who could have done it? Water all over the floor, but the cat's water dish is empty? How did that happen? Or, as in the case of the sample, where did all the ornaments from the middle of the tree go? Push your creativity and solve the mystery!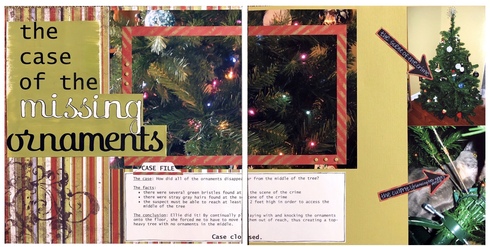 OPTION 2: Very sketchy
There have been several covers for different editions of this book, but I think the one I included above lends itself very well to being used as a sketch. For this option you must:
- have three different bands of background paper to mimic the 
three different background colors on the cover.
- put your photos (however many you like) in the top and bottom 
bands. If you want to include one or two in the middle, that's ok, 
but there MUST be photos in the top and bottom.
- include a title AND journaling in the middle band.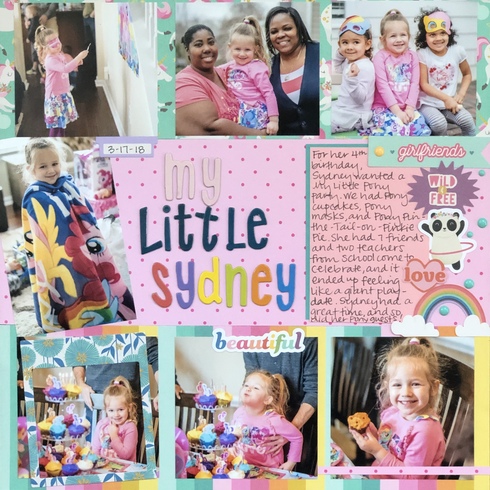 The Fine Print:
1. HAVE FUN MAKING YOUR PROJECT!
2. Entries open to new projects - paper, digital, & card making.
3. May be combined with one other challenge that allows it.
4. Due March 31st, at 11:59 PM.
5. One lucky winner, chosen at random, will receive a $5 ACOT gift card from us!
6. Up to 3 entries permitted per month.
7. A RAK is awarded to a second winner if there are more than 15 unique entries (not including bonuses) during the month.
Participants:
1.

love2stamp
2. hsblair
3. joannie
4. Retiree3
5. lissahope26
6. Deanna13
7. Becky Bitting .
8. blfonty
9. EmtAimee734
10. keatonsgtgram
11. keatonsgtgram
12. blbabe1234
13. shoorn
14. mgehrke
15. joannie
16. MTCanuk
17. joannie