I love all the happiness that flowed through this thread all month! Such wonderful layouts and cards! And I never thought of the song "Happy Birthday" when I came up with this challenge lol. It was so cool that many of you used that! Great song choices everyone!

Since I have over 20 submissions I will be picking 2 winners!

Winner #1, chosen using RandomNum iPhone app, is…
#22 jcsmaestra

Winner #2, chosen using RandomNum iPhone app, is…
#18 mgehrke

Congratulations Mary and Mildred! I have sent out your gift cards! Please let me know if you don't receive them.

Thanks to everyone that participated!
---
First a reminder that my February Music Challenge is still running until March 8th!
This month's challenge was inspired by my Twinkie. We finally had a decent snowfall today! It only took until March to get some snow that her and Sky could actually play in! The only problem was that Twinkie couldn't find her tennis ball in the snow. She was so happy when I had dh toss us out a brand new one, and had a blast chasing it in the snow. So this month is all about being happy! My challenge is for you to find any song title or song lyric that has the word "happy" in it and use it for your title.
Open to paper, digi, hybrid, cards, crafts, or whatever this inspires you to create.
You may combine with one other challenge that allows it.
Multiple submissions are allowed up to a limit of 5.
Post your submissions to this thread by midnight (whenever midnight is for you) March 31st and a random winner of all participants will receive a $5 ACOT GC from me!
Most of all have fun!
The song "You've Made Me So Very Happy" by Blood, Sweat & Tears was perfect for this sweet pic of her having fun today. I used the lyric "So Very Happy" for my title.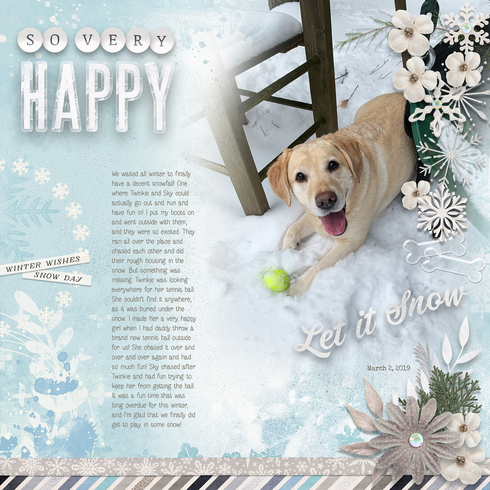 Participants:
1. lissahope26
2. jcsmaestra
3. Deanna13
4. emmapaige
5. Retiree3
6. 1scrapdiva (Robin)
7. Charleneanne
8. EmtAimee734
9. EmtAimee734
10. love2stamp
11. joannie
12. keatonsgtgram
13. joannie
14. Linda S.
15. Sandi0805
16. Tammey
17. Deanna13
18. mgehrke
19. blbabe1234
20. lissahope26
21. jcsmaestra
22. jcsmaestra
23. jcsmaestra
24. tms58
25. JAire
26. blfonty
27. Sandi0805