THIS MONTH'S WINNER OF THE $5 GIFT CARD, AS CHOSEN BY RANDOM.ORG, IS #3: DEANNA13!
AND THE WINNER OF THIS MONTH'S RAK, AS CHOSEN BY RANDOM.ORG, IS #19: JCSMAESTRA!
THANK YOU SO MUCH TO EVERYONE WHO PARTICIPATED THIS MONTH, AND CONGRATULATIONS TO THE WINNERS!

This month, we're going to focus on the young adult book, Feed, by M.T. Anderson. The book is a dystopian look at a future in which teens vacation on the moon for spring break, drive flying cars, and get a "feed" implanted in their brains when they are born. The feed gives them unlimited mental access to the Internet, and even allows them to communicate with each other merely by thinking what they would otherwise say. While recovering in a hospital after all their feeds get hacked during their spring break trip, Titus, the protagonist, meets Violet, a teen who had her feed installed later in life. They begin a romantic relationship, and Violet convinces Titus to help her disrupt the feed by showing interest in a wide variety of products, so the feed cannot form a consumer profile on them. Violet's feed begins malfunctioning, however, and as her mind and body deteriorate, so does her relationship with Titus.
(I was required to read this book for a young adult lit class I took during my Master's studies. I was immediately struck by how progressive the book was for its time. It was written in 2002, and, while I don't quite think we're at the future the book predicts, there are aspects of it that hit a little too close to home.)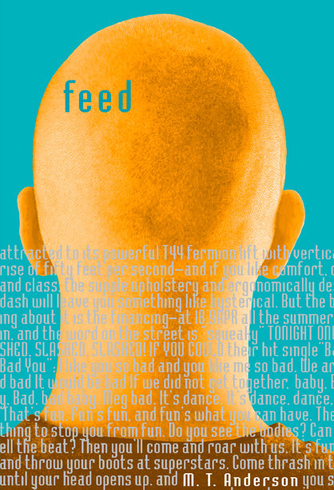 OPTION 1: Technology
The central focus of this book is the role technology plays in our lives, so for this option, make a page all about technology. It can be a movie you saw, an app you love to play, how reading books on a Kindle has changed your life, or the new gaming system you got for Christmas. If a screen is involved, it's perfect for this page.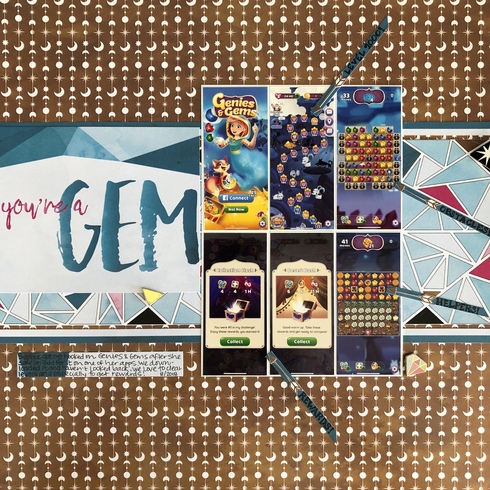 Sample for Option 1, about a phone app I love to play.
OPTION 2: Anti-Technology
For this option, we're going in the other direction. Make a page about an activity that does NOT require technology (except for the phone you likely used to take your pictures, of course
)
. It can be staying at home and reading a book, playing board games, or riding bikes. It can be a day trip to a local attraction. Please note, however, this is NOT the place for vacation pages. Those are a whole separate animal.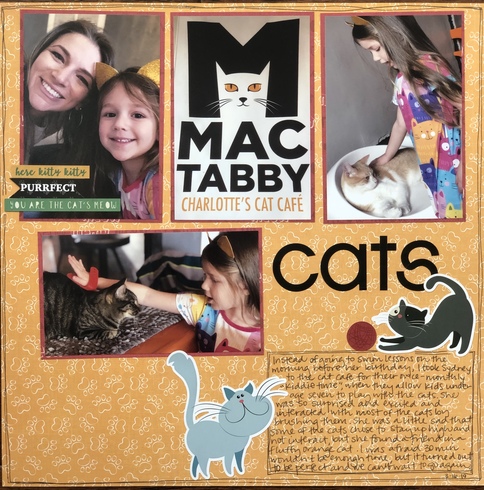 Sample for Option 2, about a day trip my daughter and I took to a local cat cafe.
The Fine Print

:
1. HAVE FUN MAKING YOUR PROJECT!
2. Entries open to new projects - paper, digital, & card making.
3. May be combined with one other challenge that allows it.
4. Due May 31st, at 11:59 PM.
5. One lucky winner, chosen at random, will receive a $5 ACOT gift card from us!
6. Up to 3 entries permitted per month.
7. A RAK is awarded to a second winner if there are more than 15 unique entries (not including bonuses) during the month.
Participants
:
1. Deanna13
2. Retiree3
3. Deanna13
4. lissahope26
5. Tammey
6. LoreenC
7. EmtAimee734
8. EmtAimee734
9. shoorn
10. joannie
11. MTCanuk
12. keatonsgtgram
13. sweetsour
14. jcsmaestra
15. scrappinmom99
16. oceanbreezes423
17. scrappinmom99
18. joannie
19. jcsmaestra
20. jcsmaestra
21. LoreenC
22. keatonsgtgram
23. Becky Bitting .