Thanks to all for playing along. It was great to see so many Cherries' cards scraplifted. The winner is No. 9, Jaire (Joyce Ann). Off to send your gift card!
1 Traveler
2 Sara Scraps
3 Kristy Lee
4 Tammey
5 jcsmaestra
6 joannie
7 sweetsour
8 Retiree 3
9 JAire
10 Charleneanne
11 JillinIN
12 Karen C
-----------------------------
This month, with all the extra NSD excitement, I want to keep the Card Challenge simple. So the challenge is to scraplift a card -- any card that inspires you. It can be any type of card and it can be from the gallery here at ACOT or from elsewhere. Post a picture of the card you scraplift here on this thread along with the card you create. Remember, your scraplift is not intended to be a copy of another card. You might borrow just one or two elements or ideas from the other card. Be sure to describe which elements you incorporated into your card when you post here.
I scraplifted Sara Scraps' Cool Cactus Cards from the ACOT gallery. I borrowed the idea of a cactus giving hugs -- that silly thought made me smile! To add to the silliness I gave the cactus googly eyes. I also liked how Sara used a scattering of sequins; I substituted a scattering of enamel dots. Sara's cards: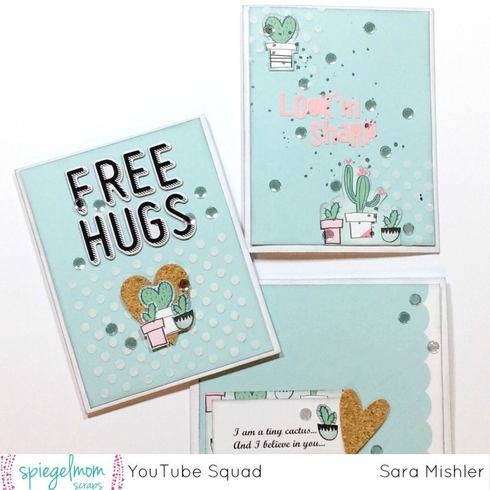 And my cactus card: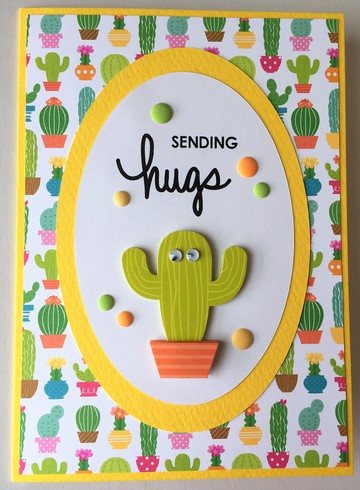 So, the rules: Must be a new, paper card (no digi).  Be sure to include a picture of the card you scraplift along with your creation and describe what elements you borrowed. Post to this thread by 11:59 p.m. May 31. One entry per person, and you may combine with one other monthly challenge if it allows. No combining with NSD challenges. A $5 ACOT gift card will go to one Cherry! Please ask if you have any questions.