This month's Music Challenge is finally here! Sorry it took so long Cherries. With all the NSD activities and challenges that went on all last week I have finally got this posted. I am going to run it until the end of June since I have gotten it up so late.
So for this month the challenge is for you to use a photo that has something in it that plays music. It can be a musical instrument, a children's toy, an iPhone, a music box… anything that plays music. That's it! Have fun and can't wait to see what you all come up with!
Open to paper, digi, hybrid, cards, crafts, or whatever this inspires you to create.
You may combine with one other challenge that allows it.
Multiple submissions are allowed up to a limit of 5.
Post your submissions to this thread by midnight (whenever midnight is for you) June 30th and a random winner of all participants will receive a $5 ACOT GC from me!
Most of all, have fun!
Here is my layout about JJ playing with a musical/talking teddy bear that was Maddie's and then Aiden's and now hers.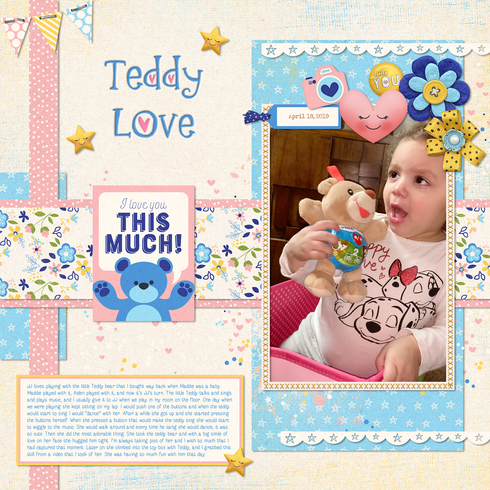 Here's a layout from way back in my gallery that I did when Maddie was a baby. She so loved what I nick-named her baby iPod. JJ plays with that now too.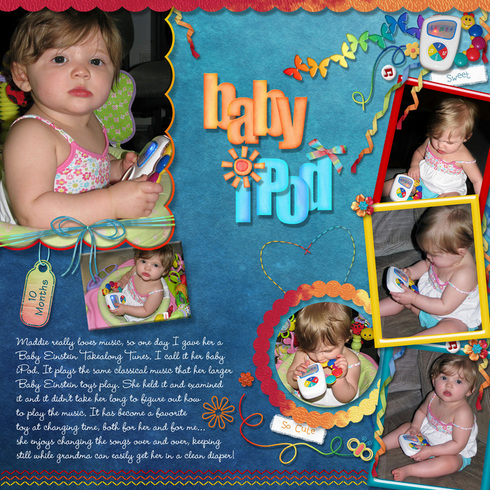 (I can't believe I posted this layout almost 10 years ago! Omg!!)
Participants:
1. jcsmaestra
2. sweetsour
3. Retiree3
4. Tammey
5. jcsmaestra
6. all4ty
7. scrappinmom99
8. scrapping on the run
9. Art_Teacher
10. lissahope26
11. 1scrappymom
12. shoorn
13. LoreenC
14. lewisbaby
15. Sandi0805