The winner via random number generator is No.2, Retiree3. And I was so happy to see someone try a box card that I will send an additional $5 gift certificate to tms58! 
Thanks to all for joining the card challenge! 
1 - Charleneanne
2 - Retiree3
3 - Jaire
4 - Traveler
5 - tms58
6 - tms58 (bonus for box card)
7 - Tammey
8 - jcsmaestra
---------------------
This month's challenge is to make a card that uses at least
two
folds in the base paper. These can be pretty simple or more complex -- whatever you're up for! Google will bring you many samples of tri-fold, gate fold, Z-fold, easel, side-step and center-step cards along with diagrams and instructions.
This site has a list of special fold cards with links to instructions and samples (the handbag card is especially cute!):
https://beccysplace.blogspot.com/2011/0 ... cards.html
(Thanks to Average Kim, who posted that link back in 2015!)
Here is my sample, a box card I made for my adult son's birthday last month. It folds flat to fit into a large envelope: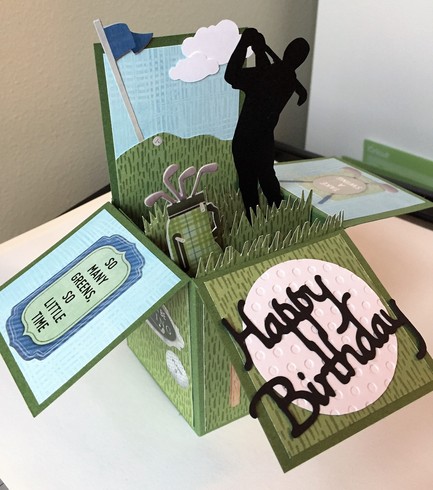 And this is a box card I made for a friend a while ago: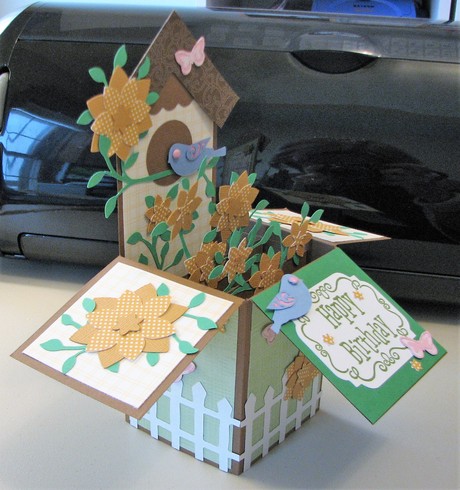 These are links to the two sites I used to learn how to make box cards; one includes a video.
https://www.splitcoaststampers.com/reso ... upboxcard/
http://www.aboverubiesstudio.com/tuesda ... -box/8564/
Don't be intimidated – once you cut and fold the box you will see how easily it goes together, and the instructions include what sizes to cut your decorative papers. Tip: Use Score-Tape or similar extra-sturdy adhesive to make sure your box and inserts stay attached when folding/unfolding the card.
The rules: You may submit only one card. It must be a new, paper card (no digi).  Post to this thread by 11:59 p.m. June 30. You may combine with one other monthly challenge if it allows. A $5 ACOT gift card will go to one Cherry via the random number generator.
BONUS entry this month for box cards, and If the chosen winning card is a box card, I will increase the prize to a $10 ACOT gift card!
Please ask if you have any questions.