So sorry for the delay in posting, but the winner of this month's challenge, as chosen by random.org is #3: love2stamp!!! Congratulations!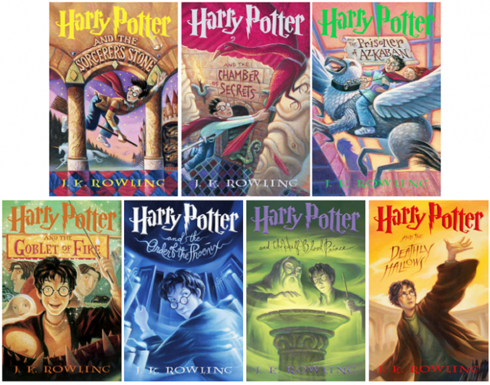 The Book Lover's Challenge turns three this month, and we're going to celebrate its anniversary by revisiting its roots. Three years ago, the Book Lover's Challenge began with Harry Potter, since his birthday is July 31st. The Harry Potter series was then, is now, and always will be, my greatest literary love. I call myself a "First Generation" Harry Potter fan, because I read the books as they were being written. I remember going to the midnight release parties to buy the next book when it was published, and staying up all night to devour it. Now, I get to revisit the series in a whole new way as I read the books with my daughter. It is so fun for me to see her experience everything for the first time, and I admit that I am living vicariously through her, in a way, because I have such a love for this series. So, wands at the ready, we're heading back to Hogwarts!
OPTION 1: Potterheads, Unite!
Option 1 is very simple: make a page with a Harry Potter theme. I know I'm not the only Potterhead out there, so anything goes on this page – your trip to HP World at Universal, the HP birthday party your child/grandchild/niece/nephew had, that time you dressed up as Hermione for Halloween, etc. As long as Harry Potter is, in some way, the theme of the page, you're good.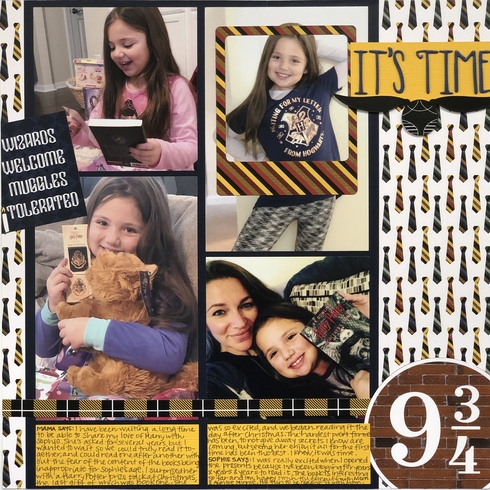 OPTION 2: Dumbledore's Wisdom
Albus Dumbledore, esteemed headmaster of Hogwarts School of Witchcraft and Wizardry, is hands-down, my favorite character in the series. His blend of humility, understanding, omniscience, loyalty, and fun make him eminently likeable. Throughout the series, Dumbledore acts as Harry's mentor, imparting him with wise sayings to help Harry, and all the students really, understand more about themselves. For this option, choose one of Dumbledore's ten inspiring sayings below, and create a page around it. The quote can be your title, an accent, or simply part of your journaling, but the quote must appear on the page somewhere. Also, this does NOT have to be a Harry Potter themed page. Just let the quote lead you wherever it will.
It does not do to dwell on dreams and forget to live.




It is our choices that show what us we truly are, far more than our abilities.




It matters not what someone is born, but what they grow to be.




Happiness can be found even in the darkest of times, if one only remembers to turn on the light.




There will be a time when we must choose between what is easy and what is right.




Words are, in my not-so-humble opinion, our most inexhaustible source of magic.




Numbing the pain for a while will make it worse when you finally feel it.




Of course it is happening inside your head, but why on earth should that mean that it is not real?




Curiosity is not a sin…. But we should exercise caution with our curiosity.




We must try not to sink beneath our anguish . . . but battle on.



Quote #2 is on the navy strip just above the journaling.
This month, you'll get a BONUS ENTRY if you
take the Sorting Hat quiz, to see which Hogwarts house you're in! To take the "official" quiz, you'd have to create an account on WizardingWorld.com, however, a version of it, which pulls questions from the original quiz, can be found here -
http://wizardmore.com/sorting-hat/

- and you don't have to create an account. For the bonus, simply take a screen shot of your result and post it in this thread, in the same spot as your layout. Please note, while you can submit more than one layout, you can only get the bonus once.
The Fine Print:
1. HAVE FUN MAKING YOUR PROJECT!
2. Entries open to new projects - paper, digital, & card making.
3. May be combined with one other challenge that allows it.
4. Due July 31st, at 11:59 PM.
5. One lucky winner, chosen at random, will receive a $5 ACOT gift card from us!
6. Up to 3 entries permitted per month.
7. A RAK is awarded to a second winner if there are more than 15 unique entries (not including bonuses) during the month.
Participants:
1. Retiree3
2. joannie
3. love2stamp
4. love2stamp (BONUS)
5. joannie
6. joannie (BONUS)
7. scrappinmom99
8. Deanna13
9. Deanna13
10. oceanbreezes423
11. Kayla S.