Congratulations to this month's winner, as chosen by random.org: #11, 
jrrah4903! Thanks to everyone who participated this month!
This summer, I have been reading only two kinds of books: memoirs, and books from my library at school. There has been very little in between. This month's focus is going to be one of the memoirs I've read – The Rules Do Not Apply by Ariel Levy. I'll be honest, I hadn't heard of Ariel Levy before reading this book, but a combination of the bold cover and the intriguing summary on Goodreads made me want to get it, and I'm glad I did.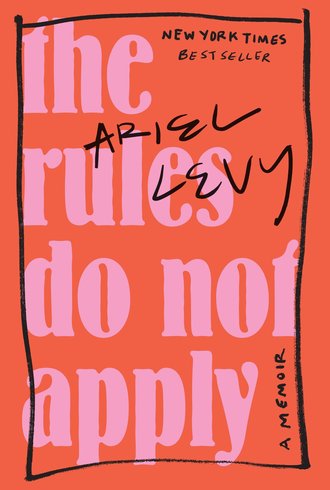 Ariel Levy bucked the system, and enjoyed living her life on her own terms. She was a successful writer for The New Yorker and, when she left to go on a business trip in November of 2012, as the book jacket states, "she was
pregnant, married, financially secure, and successful on her own terms. A month later, none of that was true." Throughout the book, Levy writes with candor about her life, her relationships, her career, the choices she made, and how some of those choices may have led to the unraveling of the life she thought she knew.
(Aside from the compelling story, Levy's writing, in my opinion, was incredible. Her foreshadowing, her sentence structure, and her vocabulary, all had me in awe. Even if the story itself doesn't sound gripping, you may want to read this book if you have a true and deep love for the English language!)  
OPTION 1: The Rules DO NOT Apply
Levy prided herself on breaking the mold, so for Option 1, make a page about a time you, or someone you know, did something according to your own rules. Did you begin a second career after twenty years in your first one? Did you go back to school to get your degree rather than getting it when you were "supposed to"? Have you done anything outside the stereotypical norm? If so, make a page about it!
OPTION 2: The Rules DO Apply
I absolutely LOVE the cover of this book. I think it is bold and striking in its simplicity, and I love the blocky and straight title font, with the hand-drawn border and author's name, overlapping the title to really drive home the point that the rules do not apply. So for Option 2, we are going to turn the cover into a sketch, but there WILL be some rules for how to create your layout around it:
The background page must be solid-colored.




You must have a border (but it can be made out of anything: hand drawn, washi, stitching, etc.)




There must be at least two photos.




Placement of the photos and title must match the sketch.




There MUST be some overlapping among the major elements – choose between title and photos / title and border / photos and border.




Feel free to add your own embellishments, but no more than two additional papers (beyond the background page).




The title does NOT have to take up the entire page top to bottom, but should try to take up at least half of it.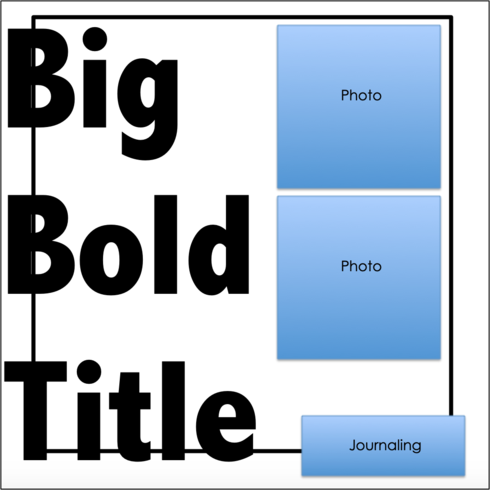 Sketch based on the cover of the book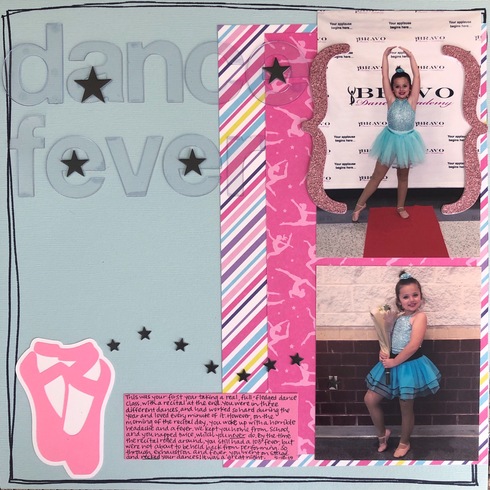 Layout based on the sketch
This month, you'll get a BONUS ENTRY if you
do a layout featuring age or a birthday as the theme. August is my birthday month, so that will make me happy.
J
The Fine Print:


1. HAVE FUN MAKING YOUR PROJECT!
2. Entries open to new projects - paper, digital, & card making.
3. May be combined with one other challenge that allows it.
4. Due August 31st, at 11:59 PM.
5. One lucky winner, chosen at random, will receive a $5 ACOT gift card from us!
6. Up to 3 entries permitted per month.
7. A RAK is awarded to a second winner if there are more than 15 unique entries (not including bonuses) during the month.
Participants:
1. Retiree3 
2. ScrappyDistractions
3. Deanna13
4. lissahope26
5. oceanbreezes423
6. LoreenC
7. 1scrappymom
8. Tammey
9. Tammey (bonus)
10. meterr70
11. jrrah4903
12. LoreenC
13. Sandi0805
14. Sandi0805 (bonus)