I love the different ways you were all inspired by the songs you chose! So much creativity by all of you! I loved all the layouts and cards!!

The winner, chosen using the iPhone app RandomNum, is…
#3 Retiree3

Congrats Donna! I have sent out your gift card!

Thanks to everyone that played along!
---
When Flasher Laura posted her August Bingo word list I found it to be the perfect match for my Music Challenge, so for this month my challenge is for you to use any of the songs on her list for inspiration. You do not have to use the title of the song for the title of your page, you can get your inspiration from any aspect of the song… a lyric, what the song is about, the title itself, etc. Just please tell us what it was about the song that inspired you.

Here is the link to her list of songs: August Colorful Tunes Bingo
If you find any of the songs to be crossed out you can still use them, it just means that they were already called for bingo. Any song in the list can be used.

Thanks Laura!

Open to paper, digi, hybrid, cards, crafts, or whatever this inspires you to create.

You may combine with one other challenge that allows it.

Multiple submissions are allowed up to a limit of 5.

Post your submissions to this thread by midnight (whenever midnight is for you) August 31st and a random winner of all participants will receive a $5 ACOT GC from me!

Have fun with this and I can't wait to see what you all create!

I haven't had a change to do my layout yet, but I wanted to get this challenge posted. I do have my idea so when I do get to it I will add it in. Right now I do have a layout from my gallery that I did a while back using the song "Black Velvet". I used the title for my title and the lyric "and that little boy smile", as they both inspired this layout about my sweet Boomer, who had a coat that was like black velvet and was such a happy boy that always looked like he was still a puppy. We had just lost him a few months before I did this layout, and it was all about how much I missed him. And I still do.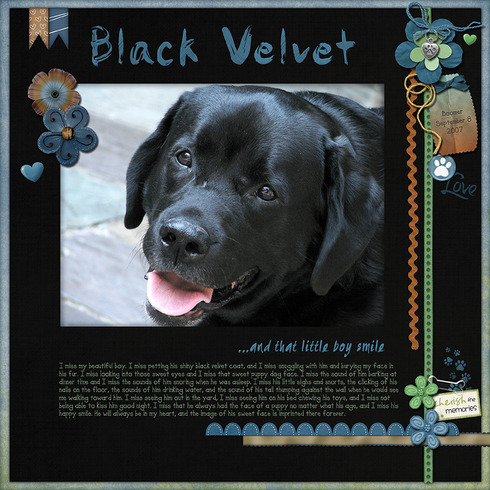 ***I finally did my example layout!***

I chose the song "Brown-Eyed Girl" from Laura's list of songs for my inspiration. I was inspired by the title, which was perfect for this pic of my sweet Maddie, and the lyric "my how you have grown" because it is so hard to believe that it is 10 years since she was the little baby that we watched every day and had so much fun with. The song gave me the idea to do this layout.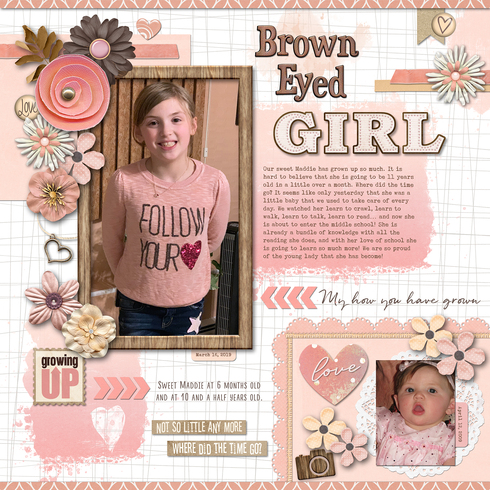 Participants:
1. emmapaige
2. wimom
3. Retiree3
4. Barb Van
5. jcsmaestra
6. Barb Van
7. Barb Van
8. Deanna13
9. Deanna13
10. wimom
11. Kayla S.
12. oceanbreezes423
13. ScrappyDistractions