CONGRATULATIONS TO THIS MONTH'S WINNER, AS CHOSEN BY RANDOM.ORG: #7, 1SCRAPPYMOM, AKA SHANNON! THANKS SO MUCH TO EVERYONE WHO PLAYED ALONG THIS MONTH!

Several years ago, before it was turned into a hit movie, I picked up The Art of Racing in the Rain by Garth Stein at the bookstore, because I often like to take a chance on a book with an interesting title. This one did not disappoint. This is the story of Enzo, a golden retriever, and his life with his owner, Denny, a retired race car driver. It is a story filled with all the ups, downs, love, and heartbreaking loss that come with a life well lived. However, what makes this story truly unique is that it is told through Enzo's eyes. He is extremely observant and attuned to Denny's emotions, and it isn't long before the reader finds him/herself rooting for both Denny and Enzo. The book will take you on a roller coaster ride of emotions, but also leave you feeling like seeing life through the eyes of a dog, makes you see everything a little more clearly.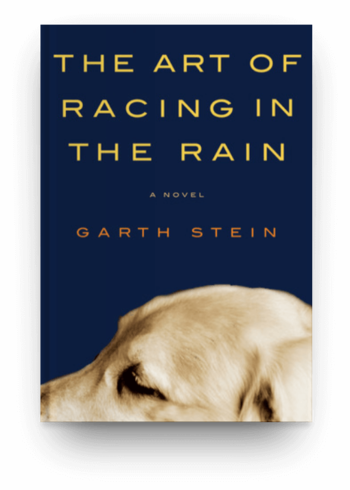 OPTION 1: The Rain
In the book, Denny explains, at length, the art involved in driving a race car in the rain. However, not all things can go on as planned if it's raining. For this option, make a page about the rain. It can be an event that was supposed to happen, but got rained out, an event that proceeded, despite the rain, or a time when you (or someone you know) embraced the rain and maybe went to jump in puddles or play in the soggy wetness. Whatever it is, rain has to be the feature.
OPTION 2: A Different Perspective
I absolutely love the choice to have Enzo narrate this book, so for this option, make a page, but have someone else do the journaling, that way, you can get their point of view on the event you're scrapping. And, if you want to get REALLY creative, YOU can do the journaling, but from the perspective of your pet! For this option, there must be at least three sentences of journaling.
This month, you'll get a BONUS ENTRY if you
 include an animal in one of your photos. The page doesn't have to be about the animal, but let's give a nod to Enzo, and the important role animals play in our lives, for the bonus this month!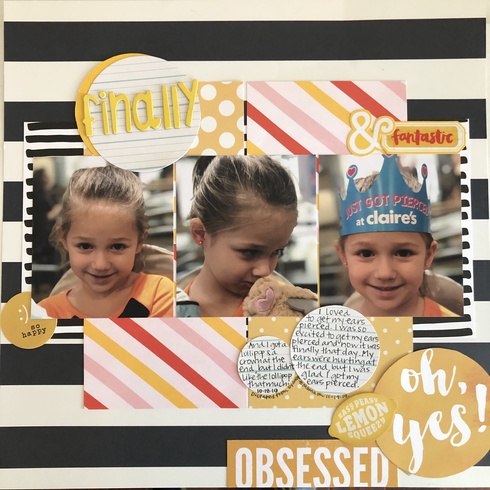 Sample for Option 2, in which my daughter gave me her thoughts on finally getting her ears pierced.
The Fine Print:
1. HAVE FUN MAKING YOUR PROJECT!
2. Entries open to new projects - paper, digital, & card making.
3. May be combined with one other challenge that allows it.
4. Due November 30th, at 11:59 PM.
5. One lucky winner, chosen at random, will receive a $5 ACOT gift card from us!
6. Up to 3 entries permitted per month.
7. A RAK is awarded to a second winner if there are more than 15 unique entries (not including bonuses) during the month.
Participants:
1. joannie
2. ScrappyDistractions
3. Tammey
4. scrappinmom99
5. wimom
6. wimom (BONUS)
7. 1scrappymom
8. 1scrappymom (BONUS)
9. ScrappyDistractions
10. Deanna13
11. 1scrappymom