Thank you to all who played along with this challenge, I got some new ideas of little items to mix in with my enamel dot clusters! 
  According to random.org
the winning number is.....#14, Joannie!!
  Congrats, Joannie! I'll be emailing Rachel the list of winners today!
For Challenge #3 I'm going to ask you to Mix It Up and use something I think most of us consider a "staple" in our scrapbook supplies....enamel dots.  BUT, there's a twist!  Your challenge is to use your enamel dots with at least ONE OTHER ITEM such as buttons, gems, flowers, sequins, and a couple of my favorite options are brads and wood veneer shapes.  You can sprinkle them, group them, use as many as you want, the requirement is that you mix in another item with your dots.  If you don't have any enamel dots in your stash please PM me and I will help organize an intervention 
  LOL, just a little early morning sarcasm!  But, if you don't have any let me know and I'll figure out a way for you to still play along.
Here's my sample where I mixed wood veneer, sequins and pearls with my enamel dots: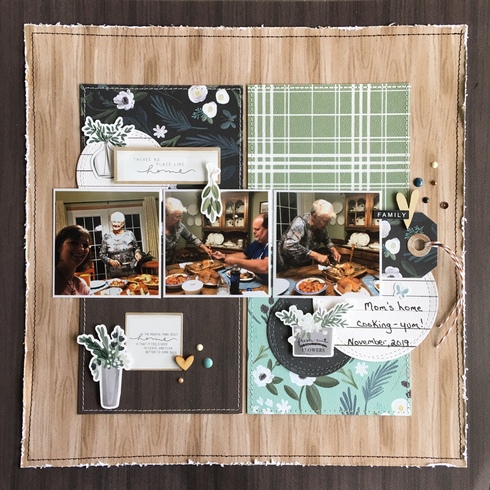 Rules:
Use at least one other item along with enamel dots on your project
I'll open this up to cards, also.  Must be a NEW layout or card
One entry per person
You may combine with one other November challenge, but not another Guest Designer Challenge
Deadline is midnight, November 30, 2019
One randomly chosen winner will be selected to win a $5 gift card, courtesy of ACOT!
Most of all, have FUN!
Participants:
1. 1scrappymom
2. love2stamp
3. CarrieG
4. lissahope26
5. Sandi0805
6. scrappinmom99
7. Tammey
8. MTCanuk
9. karen c.
10. LoreenC
11. AllisonLP
12. keatonsgtgram
13. Deanna13
14. joannie
15. shoorn
16. emmapaige
17. Yankeegirl
18. Retiree3
19. wimom
20. blfonty