THANK YOU to all of the cherries that participated in this challenge!  I really enjoyed reading all of your tips, tricks & techniques and learned some new things to try!  I enjoyed it so much I decided to pick a second random winner for 250 sprinkles 
  Everyone who shared is receiving sprinkles, also.  The random winners of this challenge are...…….
lissahope26 for 500 points AND...…….scrappinmom99 for 250 points!!
Congratulations ladies!!
Hey cherries! I'm going to change things up a bit on this one so that everyone that participates will earn sprinkles!  For any of you that are new to playing along at ACOT, "sprinkles" are cherry points, the same that you earn when you collect cherries in the ACOT store and can be redeemed towards ACOT store orders. 
Do you have a favorite tip, trick or technique you like to use on your projects?  Your challenge is to share it with us here!  I love learning from my fellow scrappers, and I'm going to share one of my favorite tricks I use ALL the time that I learned at a crop many years ago.  I was working on a layout, trying to decide where to place a cardstock sticker. I wanted to move it around to decide where I wanted it, but didn't want it to stick to my paper and rip if I moved it.  A lady at the crop said to rub a little bit of baby powder to the back & it will cover the adhesive, making it like a die cut.  I have had a travel size baby powder in my craft room and crop bag ever since!  The nice thing is that once you decide where you want it, you can use adhesive or pop dots and they will stick with no problem.  Here's a collage of pictures to show you what I mean: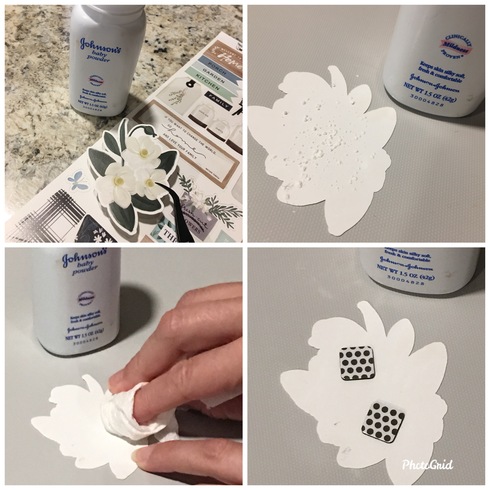 And here's my finished product, where I used pop dots on the magnolia sticker: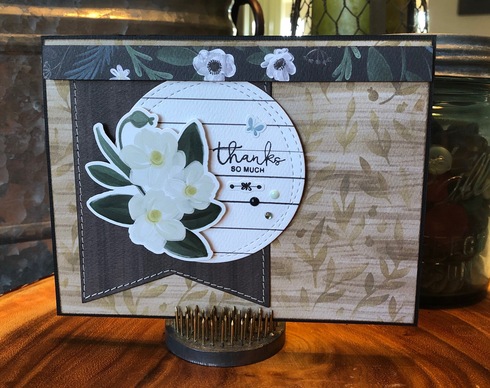 I created a new card to share one of my favorite scrapbooking tricks, but for this challenge you DO NOT have to create something new.  You don't even have to share a picture, but I encourage you to do so if you can! It doesn't have to be an original idea that you came up with yourself, in my sample it's something I learned from a fellow scrapper.  It can be a tip that you've found helpful over your years of crafting, a technique you saw demonstrated & now you love it...I think you get the idea, but if you have any questions please let me know! Please read the rules below, this thread is closing early.  I'm really looking forward to seeing what you share and learning new things from you!
Rules: 
Share a crafting/scrapbooking tip, trick or technique in this thread.  
Sharing a picture is optional, but please do so if you can
One entry per person
No combining with any other challenge on this one
This one is closing early,
all entries must be posted in this thread by NOVEMBER 23, 2019
All participants will receive sprinkles, and one randomly selected winner will receive 500 sprinkles!