The winner drawn by Random.org is...


5. Tammey (Tammey)!  Congrats!!


Thanks so much to everyone who playing along!
This month I decided to use up some Pink Paislee 'Auburn Lane' scraps and I just used them how they were already cut.
Here's your new list of papers this month! This would be great for using scraps! Remember You will need to use solid cardstock for the background and whatever other cardstock you want for matting, etc., but these paper cuts must be from Patterned Paper. You can add anything else as far as embellishing and mixed media goes, etc. You can place them in any design you like.

1/2 x 12
1 x 2 1/4
1 1/2 x 2 3/4
2 1/4 x 6
3 3/4 x 5 3/4
4 x 6 1/2
2 1/2 x 5 1/2
2-page scrappers........only 1 page will count, so for the 2nd page you can do the same or anything you like.

8 1/2 x 11 scrappers.....I believe the dimensions given will also work for your size, except for the first one with 12 in long. Adjust that one.***

If you scrap another size, please just adjust accordingly.
Here's my example... The first 3 papers are located along the left edge and I cut a banner notch in two of the smaller pieces.
Photo of DD Michelle and her DD Lucy on a plane to Florida, July 2019.
Enjoy the Little Things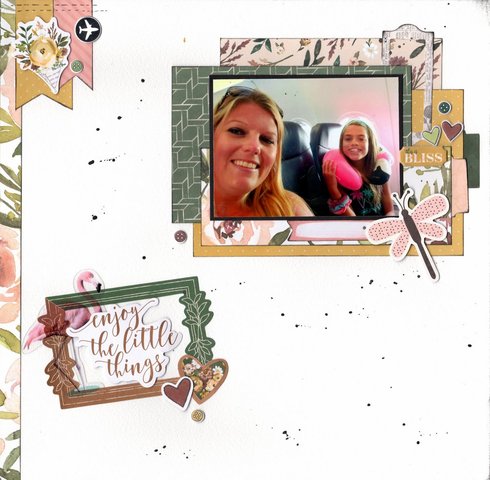 For the fine print....
This can be a paper or digital layout ONLY! All work must be new. You may do this multiple times. You may combine with one other challenge that allows. Please link your work here. Deadline is December 31st. A random winner will be selected for a $5 ACOT gift card from me!
----------
Cherries Participating:
1. Chris (emmapaige)
2. Loreen (LoreenC)
3. Lisa (ScrappyDistractions)
4. Donna (Retiree3)
5. Tammey (Tammey)
6. Melissa (lissahope26)
7. Kathy (Yankeegirl)
8. Joannie (joannie)
9. Joyce (JAire)
10. Linda (Linda S.)
11. Leslee (MTCanuk)