THIS MONTH'S WINNER, AS CHOSEN BY RANDOM.ORG, IS LUCKY #13: LISSAHOPE26, AKA MELISSA! THANKS TO EVERYONE WHO SUBMITTED A LAYOUT!

Our featured book this month is the often imitated, but never duplicated, classic tale, How the Grinch Stole Christmas, by Dr. Seuss. In How the Grinch Stole Christmas, the curmudgeonly Grinch lives his life atop a mountain overlooking the village of Whoville, despising the Whos, and the joy they radiate every Christmas season. He decides to take Christmas from them, stealing everything, from their gifts, to their trees, to their decorations, to their food. When his trick doesn't dampen the Whos' spirits at all, but actually seems to bring them closer together, the Grinch realizes that "Christmas...doesn't come from a store. Maybe Christmas, perhaps, means a little bit more." As a result, his heart grows "three sizes", and he returns everything he'd taken, even earning the place of honor at the Christmas feast.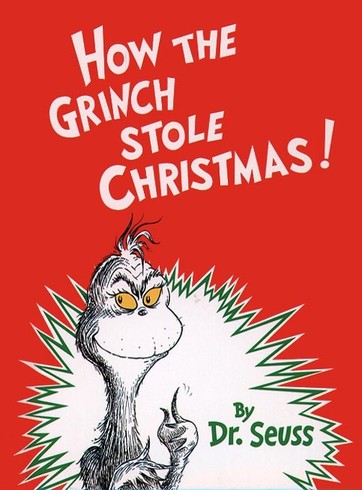 OPTION 1: Random Acts of Kindness
After his epiphany, the Grinch returns to Whoville, replacing all the presents and decorations, and is rewarded by getting to carve the roast beast at the Christmas feast. However, all throughout the year, people do amazing things for each other, without the expectation of being rewarded. So, for this option, make a page about just such an action. It can be something you did for someone else, or something someone did for you, but the idea is for it to be a selfless act – interpret that how you will!
OPTION 2: Ode to My Pet
Throughout all of his deeds, both the good and bad, the Grinch's trusty dog, Max, is by his side. For Option 2, make a page about the special pet in your life. It could be your pet, or someone else's, but the idea for this option is to show the connection between animal and person, and do at least a couple of sentences of journaling to explain what is so special about the pet.
This month, you'll get a BONUS ENTRY if
the predominant colors on your page (ie: more than 50%) are red and green.
J
The Fine Print:
1. HAVE FUN MAKING YOUR PROJECT!
2. Entries open to new projects - paper, digital, & card making.
3. May be combined with one other challenge that allows it.
4. Due December 31st, at 11:59 PM.
5. One lucky winner, chosen at random, will receive a $5 ACOT gift card from us!
6. Up to 3 entries permitted per month.
7. A RAK is awarded to a second winner if there are more than 15 unique entries (not including bonuses) during the month.



Participating Cherries


1. shoorn
2. shoorn (BONUS)
3. joannie
4. Deanna13
5. Deanna13 (BONUS)
6. Tammey
7. Tammey (BONUS)
8. Yankeegirl
9. Yankeegirl (BONUS)
10. keatonsgtgram
11. keatonsgtgram (BONUS)
12. ScrappyDistractions
13. lissahope26
14. lissahope26 (BONUS)
15. joannie
16. CarrieG