~~Congratulations to Kayla S. You are the lucky winner this month!  Thank you everyone for playing~~

This challenge will NOT be eligible for combining with other monthly challenges.  If you complete the challenge, your name will be entered in a drawing for a $5.00 gift card to ACOT from ME.   

Participants:
1. pawprints
2. Kayla S.
3. Deanna13
4. 1scrappymom
5. Retiree3
6. ratgirl
I went through the SHOP and selected this theme for January for Monthly Bingo Mania (
https://www.acherryontop.com/forum/view ... 6&t=266591
).  Your scrappy challenge?  Pick three things from the list.  Make me a project, layout or card with those specific items OR an item from your stash that is similar and tell me why you selected it as such (see my example).  For January, you may enter this up three times but must use different items each time (example, if you pick 1,2,3 - you cannot use them again for another project).  Since this is new, let me know if you have any questions 
  Again, you CANNOT combine this with other monthly challenges as I am allowing up to three entries.  Please post your layouts to this thread to be eligible for the drawing.  I will put your name in order of posting for the random.org drawing.  You do not have to be playing bingo to enter this challenge but why wouldn't you want other chances to win points??  
For my example, I created the below 12x12 layout using the following:
#8 Just Chillin Paper by Doodlebug - I took the blue, pink and purple colors from it for my background.
#39 Distress Spray - I used my Shimmerz and Tattered Angels sprays 
#60 Jolees Ice Skate Stickers - I used Jolee's Balloons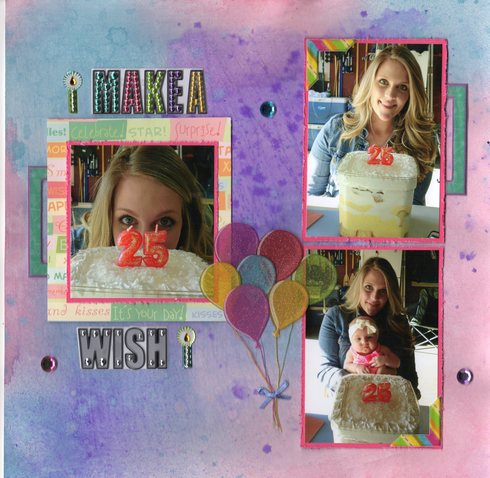 If you have any questions or suggestions to make it easier, please just let me know
The list this month is based on items in the WINTER theme section of the SHOP: