And the winner via Random Number Generator is No. 35, Suemo. Off to send you your $5 gift card! Thanks to all joined the challenge -- I loved seeing all the fun critters and how you used the sketch!
--------------------------------------------
Happy New Year everyone – wishing you all a wonderful 2020! This month also marks the start of my second year hosting the Card Challenge. I took a look back at the 2019 card challenges and found the most participation (16 Cherries) was the month I posted a sketch, so this year I am going to try to include a sketch option, maybe every month – we'll see how it goes.
For January's Challenge, you may submit only one card but you have options:
Option 1: Use an animal or animals on a card. This could be anything from a butterfly to an elephant, realistic, cartoonish or even just a silhouette.  
Option 2: Use the sketch below. This month I made a sketch with measurements based on my sample card. Remember, the sketch can be turned sideways and otherwise adjusted to fit your card idea – the sketch is just a starting point.   
Option 3: Earn a bonus by making a card using both the sketch and an animal or animals.
------------------------------------------------------
Who's joined:
1,2 - lesmitch with bonus
3 - DN in MN
4,5 - Jaire with bonus
6,7 - Charleneanne with bonus
8,9 - blbabe with bonus
10,11 - Vicki R with bonus
12,13 - shoorn with bonus
14,15 - Tammey with bonus
16 - Robkaynel
17,18 - Karen C with bonus
19, 20 - Yankeegirl with bonus
21 - Jenni328
22 - Deanna13
23 - Peytongirl
24, 25 - StacyLee with bonus
26 - Jaditelady173
27,28 -- JillinIN with bonus
29 -- MTCanuk
30,31 -- Retiree3 with bonus
32,33 -- Ashjoy with bonus
34,35 -- Suemo with bonus
36,37 -- Ratgirl with bonus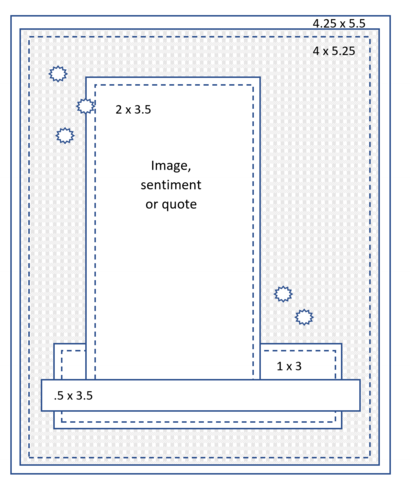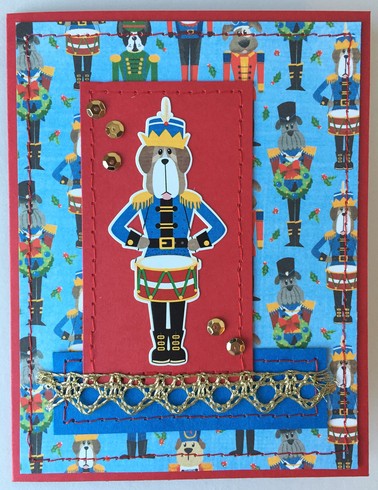 My sample, using Photoplay Muttcracker, will be going a friend who sent me a nutcracker-themed gift. When I saw the nutcracker items she sent I knew I had to make her a Muttcracker thank you card!
The rules:
-- You may submit only one card this month. If you use the sketch, please tell what part(s) of the sketch you incorporated.
-- Open only to new, paper cards (no digi). 
-- Post to this thread by 11:59 p.m. January 31.
-- You may combine with one other challenge if that challenge allows.
A $5 ACOT gift card will go to one Cherry via the random number generator. Please ask if you have any questions.