**WINNER** #2 Retiree3! CONGRATS Donna!! I will send your GC asap!!!
I am trying to catch up on my Christmas photos and I decided to scrap them in pocket pages. So, this year I will be hosting a pocket page/grid style challenge.
 Challenge: This month I would like to see you use STAMPS in 3 different pockets. It can be the same stamped image.
*You do not have to use the pocket page protectors. But you MUST use a grid format.
* You may combine with ONE other FEBRUARY challenge that allows it.
* Multiple entries are allowed. BUT, no more than 3 entries PLEASE!
* Double pages count as one entry
* For layouts only
* Due Date: LAST DAY OF THE MONTH,11:59 PM EST
*There will be a random drawing from all participants who have completed the challenge correctly for a $5 ACOT GC.
Here is my example: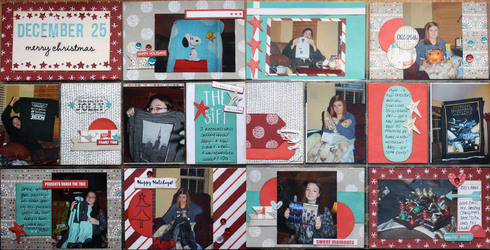 On this page I used 3 different word stamps: "jolly", "happy holidays", and "Dec 25".
Participating Cherries:

MTCanuk
Retiree3 ******WINNER******
wimom
1scrappymom
Deanna13

lissahope26
Retiree3
ajmaluck
keatonsgtgram