And the winner of the $5 GC is No. 3 -- Scrapqueen 141! Thanks to all the Cherries who shared their Cherry-ific cards!
-----------------------------
Yes, February is National Cherry Month, and I thought we Cherries really should take part!! So for February's Challenge, let's make some cherry-ific cards! If you just are not inspired by cherries, there also is a sketch option again this month. The sketch features cherries but you can substitute any other image/embellishment of your choice.
So here are your options -- one card only, please!
Option 1: Use a cherry or cherries on a card. You could use a cherry-patterned paper, make a cherry border, put a cherry on top of a cake -- you get the idea. Also, using the word "cherry " in your sentiment counts! This can lend itself to some puns, such as "You're cherry sweet."  
Option 2: Use the sketch below. If you just are not inspired to make a cherry card, you do NOT need to use cherries -- just make a card based on the sketch and use another image/embellishment of your choice. Remember, the sketch can be turned sideways and otherwise adjusted to fit your card idea – the sketch is just a starting point.   
Option 3: Earn a bonus by making a card using both the sketch and a cherry or cherries.
My Cherry Card, for a slot-lovin' friend: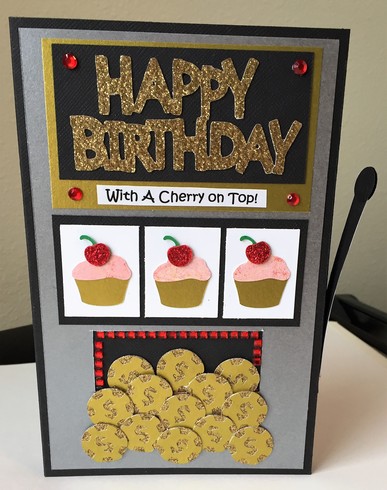 And the sketch: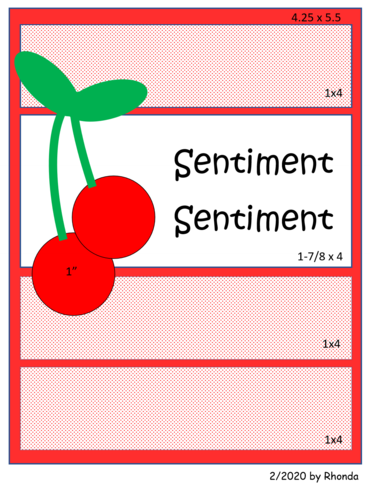 Another sample, using the sketch: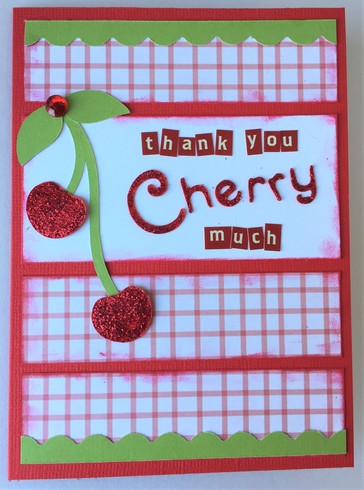 Who's joined:
1 - Tammey
2,3 - Scrapqueen 141
4,5 - StacyLee
6 - Retiree3
7 - robkaynel
8,9 - Charleneanne
10 - jcmaestra
11, 12 - Karen C
13, 14 - blbabe1234
15, 16 - shoorn
17, 18 - Ashjoy
19 - Vicki R
20, 21 -Joannie
The rules:
-- You may submit only one card this month. If you use the sketch, please tell what part(s) of the sketch you incorporated.
-- Open only to new, paper cards (no digi). 
-- Post to this thread by 11:59 p.m. Feb. 29.
-- You may combine with one other monthly challenge if that challenge allows, plus the motivational challenge.
A $5 ACOT gift card will go to one Cherry via the random number generator. Please ask if you have any questions.