Since there are over 20 awesome entries this month I am giving away 2 gift cards...This months winners are
# 22 scrappinmom99/Anne-Marie
and
# 6 emmapaige/Chris
. Congrats ladies I will send your gift cards asap.
Each month depending on my mood is what the challenge will be. It could be a recipe challenge, quote challenge, technique challenge, movie inspiration challenge, etc... I might run the same challenge for more than a month or change it up(the mood thing again). lol
This months mood is
8
...You must use
8
and only
8
from the list below. The
8
you choose has no limit...you can use as much or as little as you want. All cardstock and alphas are not included in the 8, you can use as much as you want.
1. Pattern Papers
2.  Photo(s)
3. Die Cuts
4. Puffy Stickers
5. Stars
6. Stamp
7. Banner
8. Ink
9. Photo Mat
10. Staples
11. Circles
12. Torn Edges
13. Stitching(any)
14. Sequins
15. Enamel Dots
16. Date
My example using all 16...You can only use
8
.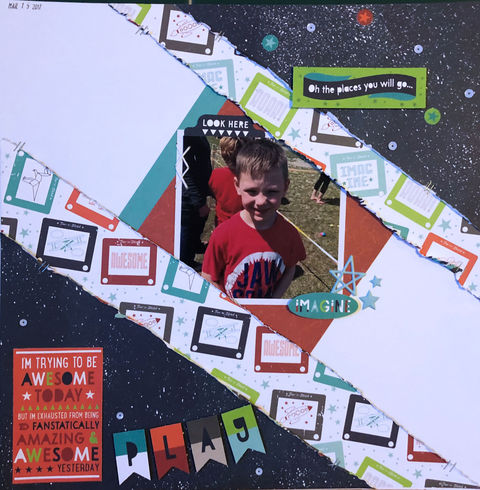 For the fine print....
This can be a paper or digital layout, pocket page, or card.
All work must be new. 
One entry per Cherry
.
You may combine with one other challenge that allows that.
Please link your work here. Deadline is March 31, 2020.
A random winner will be selected for a $5 ACOT gift card from me!
***Please remember only one entry per cherry. I want to keep it fair for all the entrants. ***
Any questions or if I forgot anything please ask or tell me.
PARTICIPATING CHERRIES
1. Jaire/Joyce Ann
2. Retiree3/Donna
3. blbabe1234/Brandy
4. treyaut/
5. Deanna13/Deanna
6. emmapaige/Chris
7. shoorn/Susan
8. LoreenC/Loreen
9. Charleneanne/Charleneanne
10. pawprints/Barb
11. wimom/Rhonda
12. MTCanuk/Leslee
13. lissahope26/Melissa
14. Yankeegirl/Kathy
15. joannie/Joannie
16. traveler/Louise
17. ajmaluck/Julie
18. Sandi0805/Sandi
19. jcsmaestra/Mary
20. keatosngtgram/Karen
21. 1scrappymom/Shannon
22. scrappinmom99/Anne-Marie