And the winner of the $5 GC is No. 13,  ajmaluck! Thanks to all for playing along!
--------------------
This month's let's try a spelling challenge, with a sketch option. One card only please!
Option One: 
Make a card -- any theme, any size -- with elements that start with the letters M-A-R-C-H. Your elements can be a manufacturer, color, specific item, even a tool! Go ahead and be creative in using items to match M-A-R-C-H. You also can have one "freebie" -- substitute a letter of your choice for M, A, R, C or H. However, any one item can represent only one letter. For example, a red heart could be your R for Red or your H for Heart, but not both. Any questions, please ask.

Option Two: Use the sketch below. You do not have to use the M-A-R-C-H elements. Remember, the sketch is just a starting point -- adjust sizes and elements as works for you. 

Option Three, for a bonus: Use both the sketch and the M-A-R-C-H elements.

I made two samples this month. Both use the M-A-R-C-H elements and the central sentiment block of the sketch, with some variation in other sketch parts.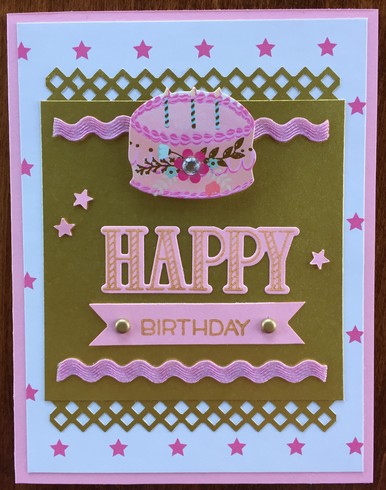 M - Mini Brads (by "Birthday")
A - American Crafts pink star paper
R - Ric-Rack Ribbon
C- Cake
H - Happy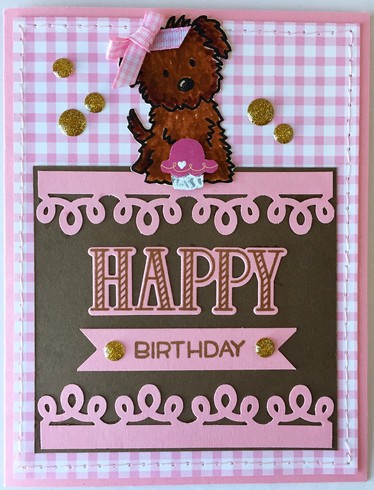 M - Martha Stewart loopy border punch
A -Avery Elle puppy stamp and die
R - Ribbon (little bow on puppy)
C- Cupcake
H - Happy
The Sketch: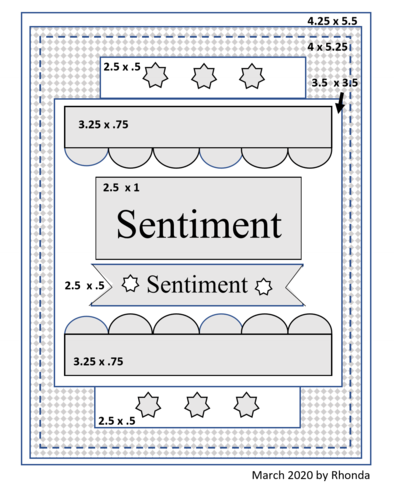 Who's joined:
1 - Tammey
2 - JAire
3 - Traveler
4, 5 - Vicki R
6 - Charleneanne
7 - Retiree3
8 - Ratgirl
9 - robkaynel
10, 11 - Jami-T
12,13 - ajmaluck
14, 15 - jcsmaestra
16, 17 - ashjoy
18 - blbabe1234
19 - joannie
20, 21 - these_days
22 - MTCanuck
The rules:
-- You may submit only one card this month. If you use the sketch, please tell what part(s) of the sketch you incorporated.
-- Open only to new, paper cards (no digi). 
-- Post to this thread by 11:59 p.m. March 31.
-- You may combine with one other monthly challenge if that challenge allows, plus the motivational challenge.
A $5 ACOT gift card will go to one Cherry via the random number generator. Please ask if you have any questions.