I love all the creative and wonderful layouts and cards! XOXO

Since I had over 20 entries I am going to pick two winners!

Winner #1, randomly chosen using RandomNum iPhone app, is:…
#20 druffing

Winner #2, randomly chosen using RandomNum iPhone app, is…
#24 Sandi0805

Congrats Debra and Sandi! I have sent out your gift cards! Enjoy!

Thanks to everyone that participated!
---
For this month's challenge I was inspired by the song "Ex's & Oh's" by Ellie King. The challenge is for you to use some XOXOs somewhere on your layout. That's it.
Open to paper, digi, hybrid, cards, crafts, or whatever this inspires you to create.
You may combine with one other challenge that allows it.
Multiple submissions are allowed up to a limit of 5.
Post your submissions to this thread by midnight (whenever midnight is for you) March 31st and a random winner of all participants will receive a $5 ACOT GC from me!
Most of all, have fun!
I did a layout about my two sweet grand doggies and how they hit it off right from the start.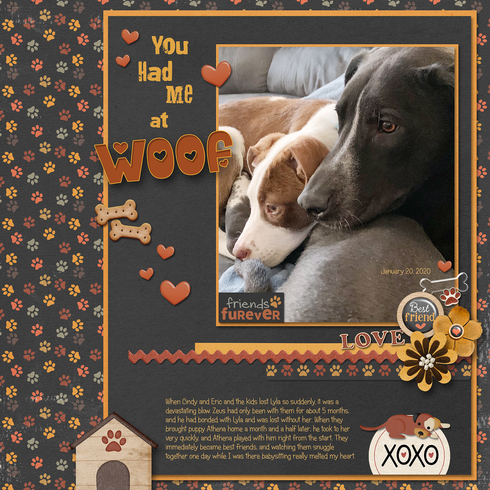 Participants
1. Deanna13
2. LoreenC
3. scrappinmom99
4. emmapaige
5. MTCanuk
6. Deanna13
7. scrappinmom99
8. mgehrke
9. JamiT
10. Retiree3
11. JAire
12. LoreenC
13. Tammey
14. blfonty
15. Deanna13
16. joannie
17. LoreenC
18. Deanna13
19. Charleneanne
20. druffing
21. joannie
22. Retiree3
23. Sandi0805
24. Sandi0805
25.keatonsgtgram
26. Sandi0805
27. jcsmaestra
28. Deanna13
29. wheeliegirl
30. blbabe1234
31. 1scrappymom
32. beachlover
33. Sandi0805
34. ajmaluck