Love all of the wonderful creations here! Thank you to everyone that participated. Since I had over 20 entries I am going to pick two winners.

Winner #1, randomly chosen using RandomNum iPhone app, is…
#17 LoreenC

Winner #2, randomly chosen using RandomNum iPhone app, is…
#11 Laura K

Congrats Loreen and Laura! I have sent out your gift cards!
---
This month's challenge is going to be all about the playlist. There will be two options:
Option #1
- Pick any song from your playlist and use it for inspiration. You can use anything from the song that inspires you… it can be the title, a lyric, or the theme of the song. If you don't use the title, please let us know what it was about the song that inspired you. And if you don't have a playlist, pick a song that you definitely would have on it if you did have one.
Option #2
- Use the word "playlist" anywhere on your page. And you can think outside of the box on this one if you want to, as I did in my layout below.
Open to paper, digi, hybrid, cards, crafts, or whatever this inspires you to create.
You may combine with one other challenge that allows it.
Multiple submissions are allowed up to a limit of 5.
Post your submissions to this thread by midnight (whenever midnight is for you) April 30th and a random winner of all participants will receive a $5 ACOT GC from me!
Most of all, have fun!
I did a layout for each option.
For Option #1 I went through my playlist and chose the song "Nobody Does it Better" by Carly Simon. The title made me think about how nobody chases and brings back a tennis ball the way Twinkie does. She's a true retriever. So I used the song title for the title of my layout.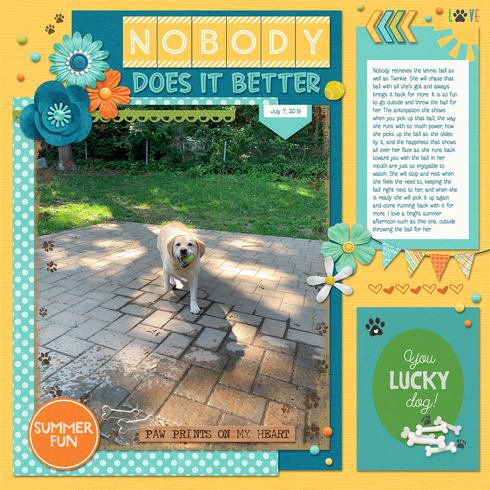 For Option #2 I used a play on the word "playlist". I did a layout showing Twinkie's "PLAY" list.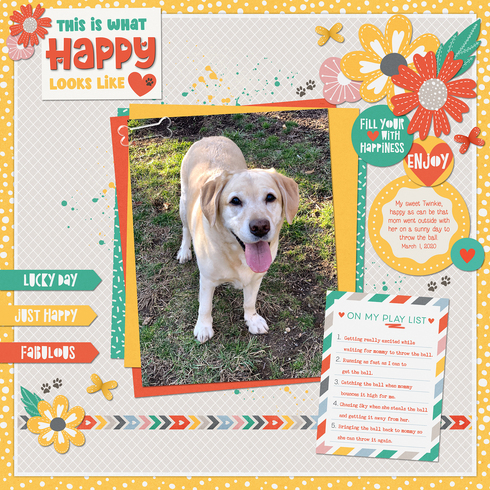 I hope you all can have some fun with this and try and get your minds off all that is going on, even if it is for just a little while. Scrapping these two layouts with all the bright colors really has helped me and helped keep my mind busy for a while. 
Participants:
1. emmapaige
2. sweetsour
3. Jami-T
4. joannie
5. joannie
6. Retiree3
7. Tammey
8. scrapsteph
9. Deanna13
10. lissahope26
11. Laura K
12. druffing
13. druffing
14. druffing
15. druffing
16. jcsmaestra
17. LoreenC
18. blbabe1234
19. MTCanuck
20. Donna_Coughlin
21. blfonty
22. LoreenC
23. Deanna13
24. 1scrappymom
25. joannie
26. joannie