And the $5 GC winner is Number 1, Traveler! Thanks to all who played along!
----------------------
The challenge for April is to play with your patterned papers. You also have a sketch option.
Option One:  Make a card using at least four different patterned papers.
Option Two: Use the sketch below, which was inspired by a recent Becky Fleck page sketch that I just loved 
(here)
and adapted to work as a card sketch. It's a great sketch for using scraps. And remember, the sketch is just a starting point -- angle or overlap the strips, changes sizes and adjust elements as works for you!
Option Three, for a bonus: Use both the sketch and at least four different patterned papers.
----------------------------
Who's joined:
1 - Traveler
2,3 - Jami-T
4,5 - Retiree3
6,7 - Karen C
8,9 - Lissahope26
10,11 - Charleneanne
12,13 - Tammey
14,15 - kguercio
16,17 - blbabe1234
18,19 - StacyLee
20,21 - Yankeegirl
22,23 - jcsmaestra
24,25 - joannie
26 - scrappinmom99
27 - ratgirl
-----------------------------------------
The sketch: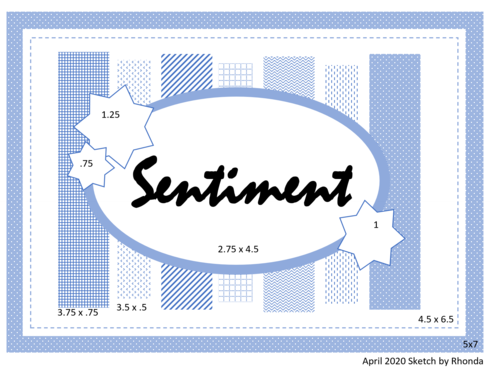 Here's my sample: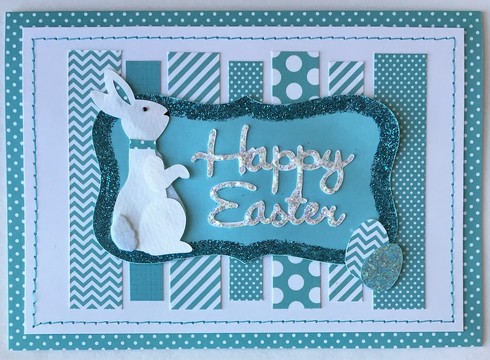 The rules:-- You may submit only one card this month. If you use the sketch, please tell what part(s) of the sketch you incorporated.
-- Open only to new, paper cards (no digi). 
-- Post to this thread by 11:59 p.m. April 30.
-- You may combine with one other monthly challenge if that challenge allows, plus the motivational challenge.
A $5 ACOT gift card will go to one Cherry via the random number generator. Please ask if you have any questions.