Thank you to everyone who participated this month! The winner of the $5 GC, as chosen by random.org is #5 - karen c.! 
And, the winner of the RAK is #25 - scrappinmom99!

This month, we're going to focus on a book that has been on several bestseller lists, and which proved to be different from anything else I've ever read: Daisy Jones and the Six by Taylor Jenkins Reid. This book follows the fictional 1970s rock band, Daisy Jones and the Six, from their roots, through their rise to super-stardom, and ultimately to their mysterious break up in the midst of a tour for their album, Aurora, the biggest selling rock album of any band, up to that point. What sets this book apart, however, is the way in which it is told. It is presented like a Behind the Music documentary, featuring interviews with all the band members, managers, friends, and anyone else who was involved in the band's meteoric rise, all curated by a nameless author/narrator. It is an interesting take on music, art, and the price of fame, and what happens when the lines begin to blur between what is performance and what is not.
(I listened to the audiobook for this one, as it came highly recommended. It was performed by a cast, and I feel like that presentation of it really brought the characters to life. I believe I liked it better as an audiobook than I might have liked it had I read it in the traditional manner.)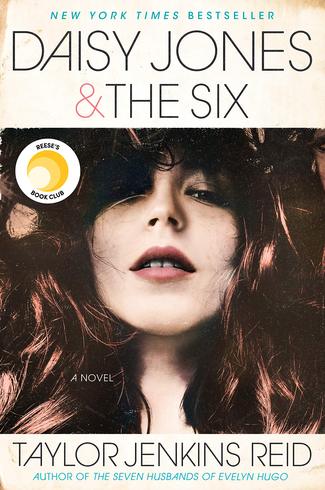 OPTION 1: Song Title to Page Title
For the book, Taylor Jenkins Reid created an entire album's worth of songs, complete with lyrics, to comprise the band's seminal album, Aurora. The track listing for Aurora is below, so for Option 1, choose one of the song titles and use it as the title for your page:
Chasing the Night




This Could Get Ugly




Impossible Woman




Turn it Off




Please




Young Stars




Regret Me




Midnights




A Hope Like You




Aurora



OPTION 2: ...and the Six
Below are ten of my favorite items or techniques to do/use on scrapbook pages. For Option 2, choose six items from the list and incorporate them onto your page! When submitting your layout, please list the six items you used.
At least three sentences of journaling




Cardstock




Thickers




At least three different patterns of paper




Three or more photos




A grid design




Enamel dots




Fussy cutting




A sketch




Foam dots



This month, you'll get a BONUS ENTRY if you
combine both options into one layout.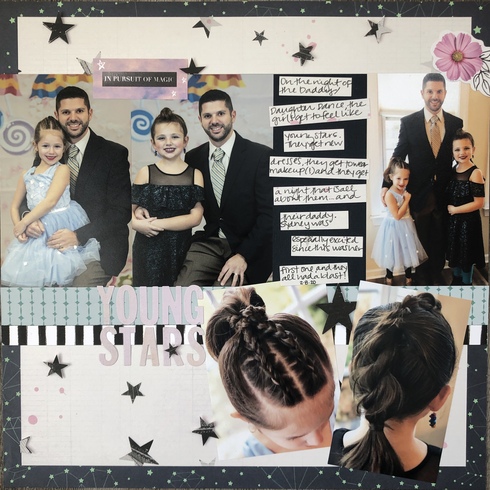 Sample using Track 6 as the title for the layout (Option 1), and three sentences of journaling, three different patterns of paper, three or more photos, fussy cutting, a sketch, and foam dots (Option 2).
The Fine Print:
1. HAVE FUN MAKING YOUR PROJECT!
2. Entries open to new projects - paper, digital, & card making.
3. May be combined with one other challenge that allows it.
4. Due May 31st, at 11:59 PM.
5. One lucky winner, chosen at random, will receive a $5 ACOT gift card from us!
6. Up to 3 entries permitted per month.
7. A RAK is awarded to a second winner if there are more than 15 unique entries (not including bonuses) during the month.
Participants:
1. Deanna13
2. ScrappyDistractions
3. Deanna13
4. karen c.
5. karen c. (bonus)
6. Mommyof5
7. LoreenC
8. StacyLee
9. joannie
10. Donna_Coughlin
11. CarrieG
12. blfonty
13. Retiree3
14. Retiree3 (bonus)
15. Tammey
16. anitatina
17. pawprints
18. LoreenC
19. all4ty
20. LoreenC
21. love2stamp
22. anitatina
23. aheatfan
24. lissahope26
25. scrappinmom99
26. Mathandlit
27. emmapaige
28. joannie
29. Yankeegirl
30. Deanna13
31. Deanna13 (bonus)