I loved seeing all of your picture perfect photos and amazing layouts! I had 27 entries so I will be closing two winners!

Winner #1, randomly chosen using RandomNum iPhone app, is…
#19 sherriscraps

Winner #2, randomly chosen using RandomNum iPhone app, is…
#1 suewho372

Congratulations Sherri and Susan! I have sent out your gift cards so you should receive them soon!

Thanks to everyone that participated!
---
Since I am posting this challenge so late this month I am going to run it through the end of June.
There is a song on Nelly Furtado's "Folklore" album called "Picture Perfect" which I thought was a great title for a layout. So that is your challenge, to use the song title "Picture Perfect" for the title of your page.
Open to paper, digi, hybrid, cards, crafts, or whatever this inspires you to create.
You may combine with one other challenge that allows it.
Multiple submissions are allowed up to a limit of 3.
Post your submissions to this thread by midnight (whenever midnight is for you)
June 30th
and a random winner of all participants will receive a $5 ACOT GC from me!
Most of all, have fun!
This is my layout using a photo I took of my sweet JJ one day when I was babysitting her. I must have taken a dozen shots that day and got this perfect picture of her.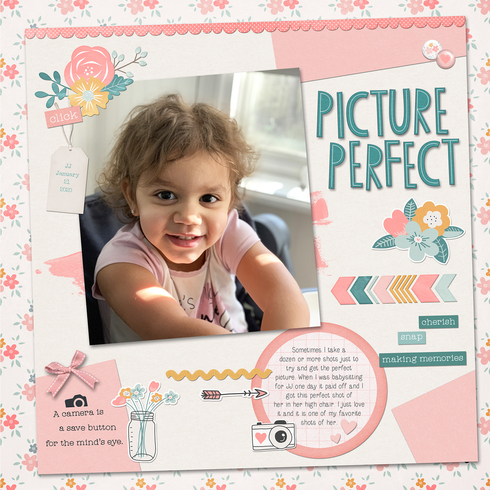 Participants:
1. suewho372
2. Jami-T
3. Scrappy Distractions
4. Deanna13
5. Tammey
6. LoreenC
7. Donna_Coughlin
8. EmtAimee734
9. emmapaige
10. aheatfan
11. shakyteach
12. Yankeegirl
13. love2stamp
14. Mathandlit
15. Mommyof5
16. Retiree3
17. MerryScraps67
18. Ashley02
19. sherriscraps
20. Berta R.
21. joannie
22. blfonty
23. Aztam
24. Charleneanne
25. Art_Teacher
26. oceanbreezes423
27. blbabe1234[/color]