**********The WINNER is...Donna/Retiree3  I will send be sending you a GC later this morning!!! Congrats!!

& thanks everyone for participating and for the feedback I received about this challenge!! I hope you continue playing along!! 
CHALLENGE:
This month we are using a 6x6 paper pad. (I think Deanna13 and I were on the same wave length this month. Her Make the Cut challenge is also to use 6x6 paper.) 
50% of your pockets/page should be from a 6x6 paper pad.
Here is my example. All the patterned paper is from Pebbles Merry Little Christmas 6x6 paper pad.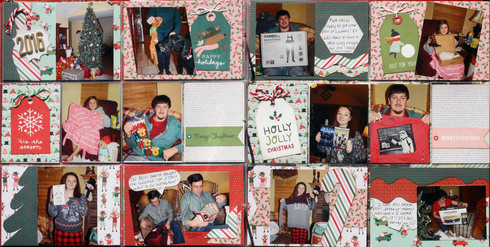 (sorry it's fuzzy)
* You do not have to use the pocket page protectors. But you
MUST
 use a grid format.
* You may combine with ONE other JUNE challenge that allows it 
* PLEASE no more than 3 entries
* Double pages count as one entry
* For layouts only
* Due Date: LAST DAY OF THE MONTH,11:59 PM EST
*There will be a random drawing from all participants who have completed the challenge correctly for a $5 ACOT GC.
PARTICIPANTS:   
ScrappyDistractions
lissahope26
lissahope26
anitatina
sherriscraps

sherriscraps
retiree3 ******WINNER*************
Jami-T
scrappinmom99
MTCanuk

Deanna13
aheatfan
jcsmaestra
Yankeegirl
aztam

love2stamp