Thanks so much for participating, everyone!!!


The winner drawn by random.org is...


6. Chris (emmapaige)


Congrats Chris! I'll be buying it shortly.
This month I've been trying to use up some older scraps from different lines. I used the last scraps from the Echo Park 'I Am Mom' line which are perfect for my granddaughters' photo. They are all odd cuts that I just used as is.
Here are your July Cut Dimensions and they must all be patterned paper! You will need to use solid cardstock for the background. You can add anything else as far as embellishing goes. 
1/2 x 3
1 1/2 x 2 3/4
1 1/4 x 9 3/4
3 1/4 x 6 1/2
3 1/2 x 8 1/2
Remember you cannot cut these any smaller, but you can distress or tear the edges. You can also use a border punch or cut banner pointed ends.
I believe these dimensions will work with just about any size scrapbook page. 
Here's my example...
Photo of my sweet granddaughters at Kaylee's Graduation Cookout, June 2020.
You Are My Sunshine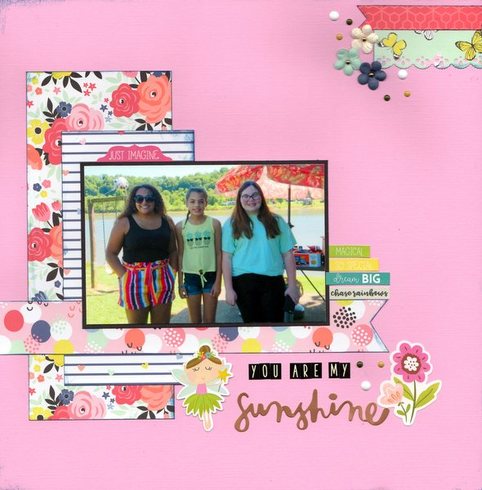 For the fine print....
This can be a paper or digital layout ONLY! All work must be new. You may do this multiple times. You may combine with one other challenge that allows. Please link your work here. Deadline is July 31st. A random winner will be selected for a $5 ACOT gift card from me!
----------
Cherries Participating:
1. (MrsFleck)
2. Berta (Berta R.)
3. (Mathandlit)
4. Donna (Retiree3)
5. Lisa (ScrappyDistractions)
6. Chris (emmapaige)
7. Brandy (blbabe1234)
8. Shannon (1scrappymom)
9. Melissa (lissahope26)
10. Tam (Aztam)
11. Loreen (LoreenC)
12. Louise (traveler)
13. Kristin (aheatfan)
14. Donna (Donna_Coughlin)
15. Tammey (Tammey)
16. Charlene (Charleneanne)
17. Susan (suewho372)
18. Shala (shakyteach)
19. Cathy (CathyG89)
20. Joannie (joannie)
21. Susan (shoorn)
22. Joyce (JAire)
23. Sandi (Sandi0805)
24. Rachel (rachel0017)
25. Linda (Linda S.)
26. Susan (oceanbreezes423)
27. Leslee (MTCanuk)
28. Kathy (Yankeegirl)
29. (MerryScraps67)