Morning ya'll! I enjoyed all the wonderful layouts featuring ya'lls pets with their loved ones, selfie style.
The lucky winner via Random.org is #12 -- wimom! Congrats Rhonda! I always enjoy seeing pics of Teddy!  I'll send your gc shortly.
THank you everyone for participating.
*********************************************************
Hi cherries! Yes, you read that post correctly! My life has finally calmed down after a year and a half and I'm ready to start hostessing again!
Do you take selfies with your pet(s)?  I do and even take selfies with furbabies who don't belong to me. LOL. Now do they like taking seflies with me? Most of the time. Ruby and Jeffrey LOVED it, and so does Shelby. The others are like, eh, whatever woman. Let's get this over with! LOL
So with that said, I want to see a layout of a furbaby and a person taking a selfie together! It can be of you and your furkid; or your child with their favorite doggie. Or your grandchild with your furbaby. And that's it! No twist or anything.
Here's my example: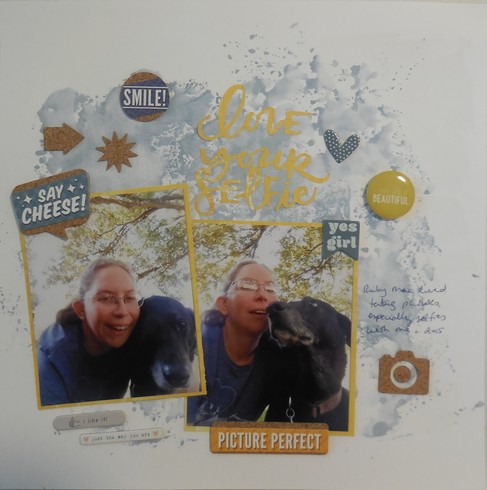 Its a few years old and Ruby Mae isn't with us anymore, but she was one of those dogs who loved taking pictures with you.
Here's a few rules:
1. Layout must include at least one photo of a person taking a selfie with a pet
2. Paper and Digital layouts are acceptable.
3. Must post here by July 31st at 11:59PM
4. You may combine with one other challenge if they allow it, including the Summer Motivational Challenge and the Collection Bashing Challenge
5. Only one entry per cherry
6. One random winner will receive a $5 gc to ACOT
Have fun!
Participating Cherries:
1. Jami-T/Jami
2. Donna_Coughlin/Donna
3. MrsFleck/Becca
4. Berta R/Berta
5. Lisa Watson/Lisa
6. MerryScraps67
7. Loreen C/Loreen
8. StacyLee/Stacy
9. joannie/Joannie
10. aheatfan/Kristin
11. shoorn/Susan
12. wimon/Rhonda
13. Deanna13/Deanna
14. Art_teacher/Laura
15. blfonty/Bonnie
16. YankeeGirl/Kathy