THE WINNER OF THIS MONTH'S $5 GIFT CARD, AS CHOSEN BY RANDOM.ORG, IS #43 - JOANNIE!
THE WINNER OF THIS MONTH'S RAK, AS CHOSEN BY RANDOM.ORG, IS #3 - AHEATFAN!
THANK YOU SO MUCH TO EVERYONE WHO PARTICIPATED THIS MONTH!

I read this month's book off of a suggestion from one of my friends on Goodreads, and I could. not. put. it. down.
When We Believed in Mermaids
by Barbara O'Neal is the story of two sisters, Kit and Josie, bound together by the secrets and lies that defined their childhood growing up on the California coast - a childhood marked by neglect, heartbreak, and unspeakable loss. When Kit turns on the TV one night, and sees Josie on a news story about a night club fire in Auckland, New Zealand, she is taken aback for many reasons, but mostly because Josie died in a train accident fifteen years prior. It could be a trick of the eye, but Kit knows, in the way sisters just KNOW, that it's Josie, and the unmistakable scar on her forehead gives her away. Thus begins a global search for answers. Kit has to know if Josie is still alive and, if so, why did she allow her family to believe she had died fifteen years ago? What is she hiding, and who has she become? Told in alternating chapters, Kit and Josie's story comes to life, including flashbacks and remembrances revealing just how tumultuous their upbringing was, woven together with details of the lives they live now. Lives they must be willing to tear apart in order to reconcile the past.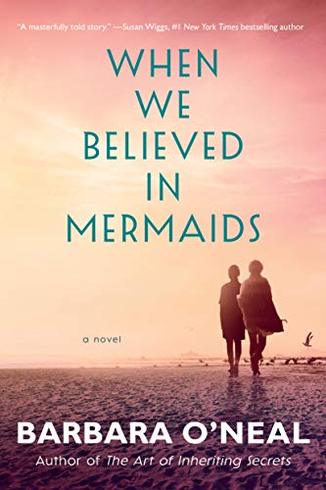 OPTION 1: Water, Water Everywhere
The ocean plays a HUGE role in Kit and Josie's lives, both as children and as adults. So, for Option 1, make a layout that features a naturally occurring body of water in at least one of the photos. We're talking ocean, sea, lake, river; this would not be the time for swimming pool or bathtub pictures.
OPTION 2: What Do You Believe In?
Often, I will choose a book solely based on the title, if it is interesting and grabs me. Two of my favorite books of all time (The Five People You Meet in Heaven and The Curious Incident of the Dog in the Nighttime) were chosen this way, and When We Believed in Mermaids is no exception. I love the nostalgia the title implies, though it has a bit of melancholy in it as well. So, for Option 2, we're going to flip it on its head and make it a bit more positive. Instead of talking about what you used to believe in, make a page about what you currently believe in. You MUST include the word "believe" in your title, but "believe" CANNOT be the ONLY word in the title. Feel free to make it funny (ie: "I Believe in Donuts!") or serious (ie: "Those Who Believe"), just be sure you've got more than just the word "believe".
This month, you'll get a BONUS ENTRY if you
include a mermaid on your layout. It can be in the paper, embellishments, or even one of the photos.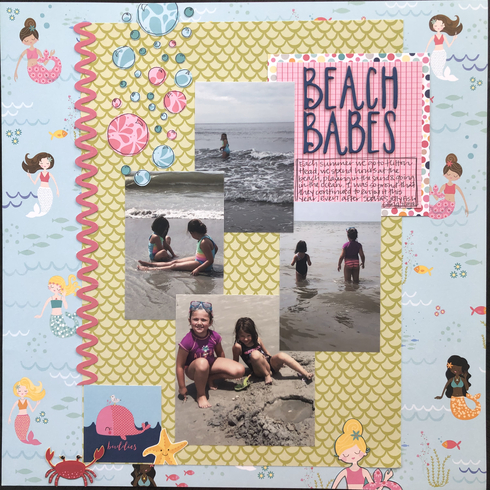 Sample for Option 1, with Bonus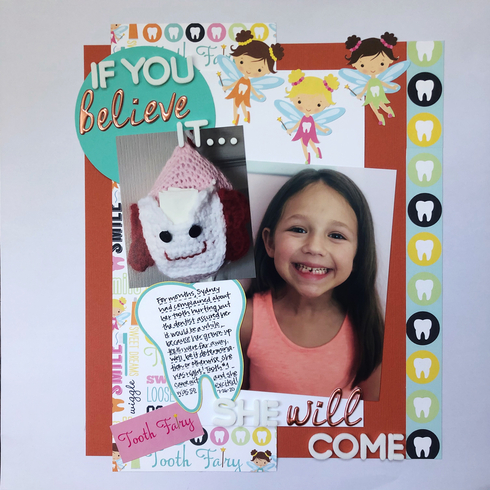 Sample for Option 2
The Fine Print:
1. HAVE FUN MAKING YOUR PROJECT!
2. Entries open to new projects - paper, digital, & card making.
3. May be combined with one other challenge that allows it.
4. Due August 31st, at 11:59 PM.
5. One lucky winner, chosen at random, will receive a $5 ACOT gift card from us!
6. Up to 3 entries permitted per month.
7. A RAK is awarded to a second winner if there are more than 15 unique entries (not including bonuses) during the month.
Participants:
1. lissahope26
2. Mathandlit
3. aheatfan
4. Deanna13
5. all4ty
6. all4ty (BONUS)
7. emmapaige
8. emmapaig (BONUS)
9. karen c.
10. karen c. (BONUS)
11. charleneanne
12. charleneanne (BONUS)
13. MrsFleck
14. MrsFleck (BONUS)
15. Aztam
16. Aztam (BONUS)
17. karen c.
18. karen c. (BONUS)
19. ScrappyDistractions
20. Donna_Coughlin
21. StacyLee
22. Retiree3
23. oceanbreezes423
24. Berta R.
25. aheatfan
26. aheatfan (BONUS)
27. Deanna13
28. Donna_Coughlin
29. blfonty
30. Rozebud
31. MerryScraps67
32. MerryScraps67 (BONUS)
33. joannie 
34. Deanna13
35. Deanna13 (BONUS)
36. Barb Van
37. 1scrappymom
38. StacyLee
39. Tammey
40. Tammey (BONUS)
41. sherriscraps
42. sherriscraps
43. joannie
44. CathyG89
45. Yankeegirl
46. Aztam
47. lissahope26
48. sherriscraps