And the winner is No. 28, Shoorn/Susan! Off to send your $5 GC. Thanks to everyone who joined in the dotty challenge! 
--------------------
The challenge this month is to use dots -- LOTS of dots! Polka dot paper will work well for this, but your also could go for a confetti look or use enamel dots, for example. But just a sprinkling of dots will not do -- you must use LOTS of dots! And you have a sketch option, too.
Your options:
1. Make a card that used lots of dots.
2. Use the sketch below to make any type of card, no dots required. Remember, the sketch is just a starting point -- take whatever elements inspire you and make it your own!
3. For a bonus, use the sketch below to make a card that uses lots of dots.
My sample:
And the sketch: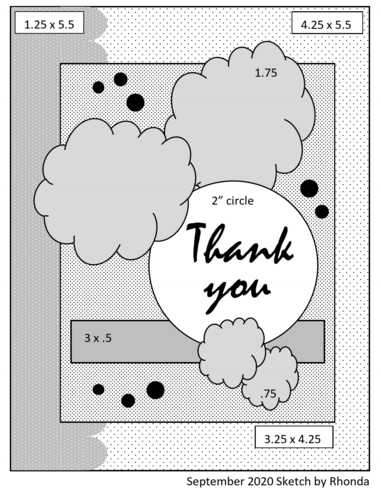 The rules:
-- You may submit only ONE card this month. 
-- If you use the sketch, please tell what part(s) of the sketch you incorporated.
-- Open only to new, paper cards (no digi). 
-- Post to this thread by 11:59 p.m. September 30.
-- You may combine with one other monthly challenge if that challenge allows, plus the summer motivational challenge.
A $5 ACOT gift card will go to one Cherry via the random number generator. Please ask if you have any questions. 
Who's joined:
1,2 - Traveler with bonus
3,4 - Charleneanne with bonus
5 - Scrappinmom99
6,7 - Tammey with bonus
8,9 - Sherriscraps with bonus
10,11 - Karen C with bonus
12,13 - Yankee Girl with bonus
14,15 - Mrs. Fleck with bonus
16,17 - Jami T with bonus
18 - LisanTexas
19,20 - Sherelm with bonus
21 - jcsmaestra
22,23 - MTCanuk with bonus
24,25 - Retiree3 with bonus
26, 27 - MerryScraps67 with bonus
28,29 - shoorn with bonus