Such great "Who Knew" pages by all of you! I love the different takes that everyone had on this!

The winner, chosen using RandomNum iPhone app, is…
#3 karen c.

Congratulations Karen! I have sent out your gift card!

Thanks to everyone that participated!
---
One of the songs that I have been hearing a lot lately because it is on my "Walk" playlist is the song "Who Knew" by P!ink. It has been making me think of how I never expected this whole COVID thing would still be around by the time that Aiden and JJ's birthdays came around in August. So my challenge for you this month is to use the title "Who Knew" for the title of your layout. It can be about anything you want.
If anyone needs an idea for a starting point some ideas that have popped into my head are:
Who Knew ____________ could be so much fun
Who Knew ________ could taste so good
Who Knew I would love ___________
Who Knew that i could actually like to ____________
Who Knew that I could ever run out of scrappy supplies… said no scrapper EVER!!! lol
Obviously you will have to have a subtitle or at least one line of journaling. I am excited to see what you all come up with!
Open to paper, digi, hybrid, cards, crafts, or whatever this inspires you to create.
You may combine with one other challenge that allows it.
Multiple submissions are allowed up to a limit of 3.
Post your submissions to this thread by midnight (whenever midnight is for you) September 30th and a random winner of all participants will receive a $5 ACOT GC from me!
I hope you can get inspiration from this, and most of all have fun!
Here is my layout. The first line of my journaling is "Who knew that when this whole COVID thing started back in March that we would STILL have to be wearing masks by the time Aiden and JJ's birthdays came around in August." and goes on from there. The rest of it is typed out in my gallery.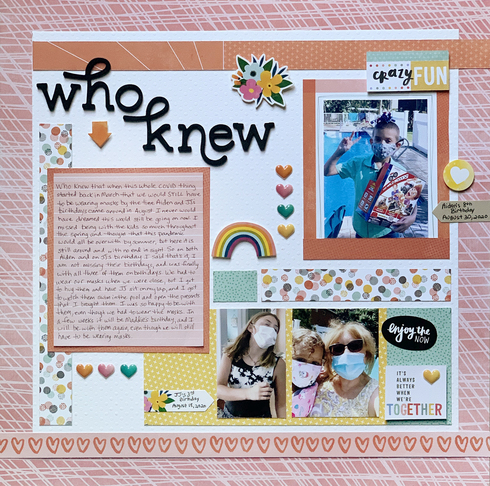 You don't have to write a book the way I did lol. Just have fun with it and see where it takes you.
Participants:
1. Mommyof5
2. MTCanuk
3. karen c.
4. oceanbreezes423
5. Aztam
6. JAire
7. Deanna13
8. lissahope26
9. aheatfan
10. joannie
11. Retiree3