The winner of this month's $5 gift card, as chosen by random.org, is #25: aztam!
The winner of this month's RAK, as chosen by random. org, is #10: karen c.!
Congratulations to the winners, and thank you to everyone who participated this month!

This month, I have taken a break from reading adult books as I've worked with my daughter to make our way through the books on the Elementary Battle of the Books list. If there's anything I've learned as an elementary school librarian, however, it's that every book has its reader, and middle grade books can be highly entertaining, even for adults. The one we've just finished was a sweet story called The Very, Very Far North by Dan Bar-el.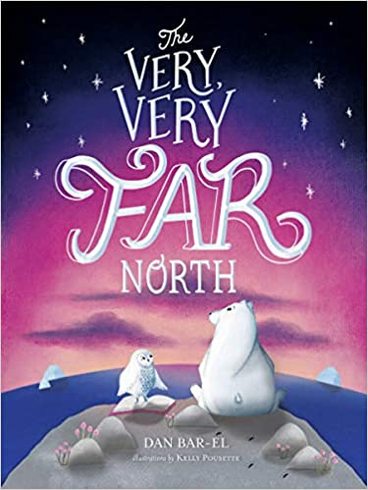 Beyond the Cold, Cold Ocean lies the Very, Very Far North where a polar bear named Duane lives with his friends. Through Duane's eyes we meet intellectual C.C., the snowy owl, vain Handsome, the musk ox, proud Major Puff, the puffin, sneaky Magic, the arctic fox, nervous Twitch, the arctic hare, shy Boo, the caribou, and a handful of humans as well. The book is more of a collection of stories than an entire story itself, which adds to its quaint and pleasant nature. However, there are laugh out loud moments as Duane tries to make sense of his friends and his surroundings, and as different as they are, we come to love all of his friends for their individual quirks and personalities so that, by the end of the book, they feel like friends of ours as well. If you're looking for a simple yet entertaining book with little drama and likable characters that is reminiscent of Winnie the Pooh, this is the book for you.
OPTION 1: NOT YOUR TYPICAL PET
As the characters in this book are all animals of the wild, for Option 1, make a page that features animals that

CANNOT

be pets. Do you have photos of a trip to the zoo? Whale watching voyage? Safari? This is the time to scrap them!
OPTION 2: A VERY, VERY COLD PAGE
The author does an excellent job of setting the scene of the Very, Very Far North and describing how the landscape changes through the passing of the seasons. One thing that remains, however, is that it is snow-covered and COLD. Therefore, for Option 2, scrap a wintery page. There are no limitations except that at least one of the photos

MUST

include snow.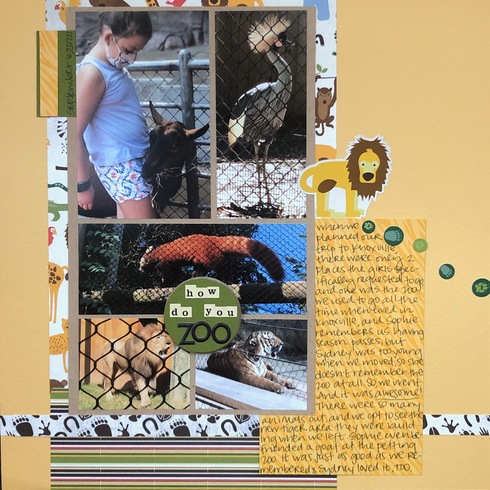 Sample for Option 1 of our recent trip to the zoo.
This month, you'll get a BONUS ENTRY if you
scraplift yourself! Find a layout in your own gallery that you're particularly fond of, and recreate it for this month's challenge. To get credit for the bonus, please post the original layout along with your new layout.
The Fine Print:
1. HAVE FUN MAKING YOUR PROJECT!
2. Entries open to new projects - paper, digital, & card making.
3. May be combined with one other challenge that allows it.
4. Due October 31st, at 11:59 PM.
5. One lucky winner, chosen at random, will receive a $5 ACOT gift card from us!
6. Up to 3 entries permitted per month.
7. A RAK is awarded to a second winner if there are more than 15 unique entries (not including bonuses) during the month.
Participants:
1. Donna_Coughlin
2. Deanna13
3. Deanna13
4. LoreenC
5. Krystle
6. Donna_Coughlin
7. aheatfan
8. lissahope26
9. karen c.
10. karen c. (BONUS)
11. traveler
12. Mommyof5
13. Mommyof5 (BONUS)
14. all4ty
15. karen c.
16. karen c. (BONUS)
17. Tammey
18. Tammey (BONUS)
19. sherriscraps
20. blfonty
21. blfonty (BONUS)
22. sherriscraps
23. all4ty
24. oceanbreezes423
25. Aztam
26. LoreenC
27. joannie
28. wendycrowe
29. aheatfan
30. JAire
31. JAire (BONUS)
32. joannie
33. MTCanuk
34. CelesteB
35. sherelm
36. shoorn
37. aheatfan