And the winners are No. 45, Sandi0805, and No 52, JAire! Thanks to all who posted their cards and tags!
---------------
The challenge this month is to make a Christmas card. If you do not celebrate Christmas, make a card for any other holiday or special occasion. No sketch this month but instead you can earn a bonus by making a coordinating tag -- a great way to use up the scraps left over from your card! If you do not celebrate Christmas, any other kind of tag is fine. I hope you will play along and have fun making cards and tags for family and friends, many of whom we will not be able to see in person this holiday season.
This is a two-month challenge so I am increasing possible entries -- you may enter up to three cards, plus up to three tags, for a total of six possible entries.  And since this is a two-month challenge, $5 ACOT gift cards will go to two Cherries via the random number generator. Please ask if you have any questions.
The rules:
-- You may submit up to THREE cards plus THREE tags this month.
-- Only new, previously unposted paper cards/tags (no digi) are eligible. 
-- Post to this thread by 11:59 p.m. December 31.
-- You may combine with one other monthly challenge if that challenge allows, plus the fall/winter motivational challenge.
My samples -- sorry for the poor photos. The background is silver holographic paper, and photographing them gave me fits!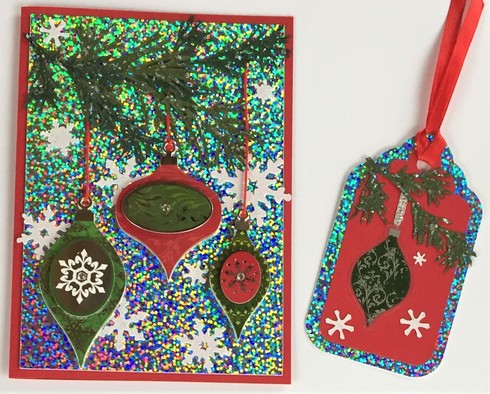 Who's joined:
1,2 - Traveler with bonus
3,4 - Tammey with bonus
5 - Vicki R
6,7 - Traveler No. 2 with bonus
8,9 - Traveler No. 3 with bonus
10, 11 - jcsmaestra with bonus
12,13 - jcsmaestra No. 2 with bonus
14,15 - jcsmaestra No. 3 with bonus
16 - StacyLee
17 - StacyLee No. 2
18, 19 - JAire with bonus
20 - MTCanuk
21 - MT Canuk No. 2
22 - StacyLee No. 3
23,24 - Yankeegirl with bonus
25,26 - Yankeegirl No. 2 with bonus
27, 28 - Yankeegirl No. 3 with bonus
29,30 - Vicki R No. 2 with bonus
31,32,33, 34,35,36 - Retiree3, three cards with bonuses
37 - Vicki R No. 3
38, 39, 40 - lesmitch three cards
41 - JAire No. 2
42,43,44 - lesmitch three tags
45 - sandi0805
46,47,48,49,50,51 - shoorn with bonuses
52 - JAire No. 3
53 - blbabe
54, 55 - joannie with bonus
56, 57 - scrappinmom99