Congrats to Tammey.
  She is the winner of the gift card for November.  All the layouts were wonderful as usual.  
I've decided to bring this challenge back in place of the color challenge.  This was one of my favorite challenges from back in 2011.  Each month  I will alternate between odd and even numbers to mix it up some.  This month will be odd numbers.  Hope you like it as much as I did.  I added 5 extra days since I am late posting the challenge.  For this month, the due date will be 12/05/20.
For this challenge you will need to use 1 of something, 3 of something, 5 of something and 7 of something.  You must list what you used and how many.   
This month I have added a couple of ways to earn extra entries.  See below example layout.
You could use for example:
   1 word title
   3 photos
   5 patterned papers
   7 enamel dots
Here's a layout that I did in July 2020: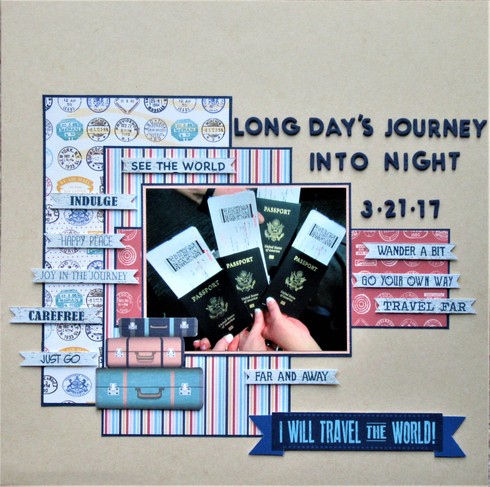 I used the following:    
    1 picture
    3 suitcases or 3 patterned papers 
    5 word title
    7 #'s and dashes for date
Bonus entry if you scraplift any of my layouts.   Does not have to be the example.  Must post the layout you lifted along with yours.
Bonus entry if your layout has a fall theme since FALL has arrivved.  
Rules:  
Solid background paper and photo mats are freebies.
You may use other items as long as the above requirements are met.
New layouts only and can be either a 1 or 2 page layout. 
Can be combined with any challenge that allows combining.
Multiple entries allowed.
Must post to this thread by 12/05/20.
If you have any questions, either post your questions here in this thread or send me a pm.
One lucky winner of this Challenge will receive a $5 ACOT gift card. 
Have fun and can't wait to see what you create.