Thank you to everyone who participated this month! The winner of the $5 gift card is: #4 - 1scrappymom! The winner of the RAK is: #32 - oceanbreezes423. Congratulations!

Last year, I really enjoyed focusing my book challenges around books I had recently finished. It encouraged me to keep reading, and helped me make sure my challenges were fresh and new each month. Therefore, I'm going to follow that same format for this year!
I'm sure that in the years I've been doing this challenge, I have repeated authors at some point. But, I don't think I have ever repeated authors in back-to-back months. After I read Britt-Marie, I put Fredrik Backman's newest book, Anxious People, on hold at the library. I was #49 on the list and had made my peace with not being able to read it until June. Then, I received it as a Christmas present! I started it immediately, and I do believe I might have found a new favorite author.
A bank robbery gone wrong. A hostage situation at an apartment viewing where things turn out alright. And a suspect who seems to have vanished into thin air. These are the strange events Jim and Jack, partners on the police force, are sent to investigate. In a sleepy Swedish town where nothing exciting ever happens, they don't even know where to begin, but they are determined to solve the case before their boss sends in "the experts from Stockholm" to assist. However, they are battling against witnesses who lie, lives that are intertwined, and their own demons. But, what's really going on here? Is this a story about a bank robbery? Is it a hostage drama? Or maybe it's just a good old-fashioned mystery? Yes, it is all of those things as well as a story about bridges. Mostly, though, it is a story about people and how hard it is to just be a human being these days. It's about the lies we tell ourselves and each other, the ways we hurt one another, and the ways in which we help one another as well, because no one can get through life alone.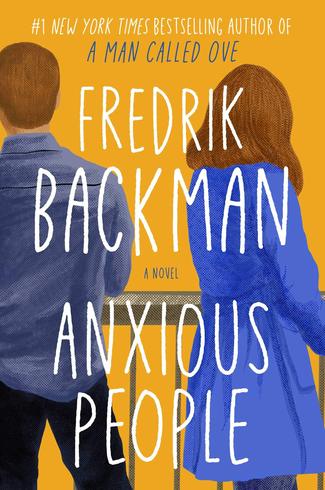 OPTION 1: HIDDEN ELEMENTS
For much of the book, the police officers are working under the assumption that the suspect must be hiding somewhere in the apartment. As a result, for Option 1, include a hidden element somewhere on your page. You can hide some extra photos, the journaling, or anything else you can think of. Just be sure to include a photo of what's hidden!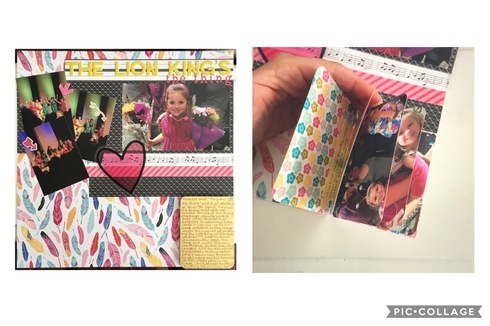 Example for Option 1: Hidden photos behind the journaling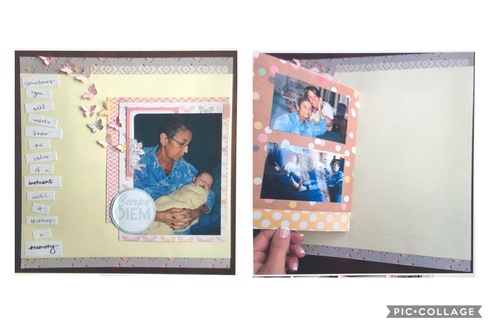 Example for Option 1: Hidden journaling and photos behind the focal photo
OPTION 2: ROUTINES, HABITS, OR TRADITIONS
In the book, each character has his or her own anxieties and deals with them in different ways. Rather than face their individual demons, many rely on the daily routines of life to quell their anxieties, so for Option 2, make a page about a daily routine or tradition in which your family engages OR about a habit you've worked to cultivate or would like to cultivate in the new year.
This month, you'll get a BONUS ENTRY if you
make a layout entirely using photos that do NOT include people.
The Fine Print:
1. HAVE FUN MAKING YOUR PROJECT!
2. Entries open to new projects - paper, digital, & card making.
3. May be combined with one other challenge that allows it.
4. Due January 31st, at 11:59 PM.
5. One lucky winner, chosen at random, will receive a $5 ACOT gift card from me!
6. Up to 3 entries permitted per month.
7. A RAK is awarded to a second winner if there are more than 15 unique entries (not including bonuses) during the month.
Participants:
1. aheatfan
2. aheatfan (BONUS)
3. aheatfan
4. 1scrappymom
5. 1scrappymom (BONUS)
6. mrozwood
7. LoreenC
8. Aztam
9. Aztam (BONUS)
10. aheatfan
11. aheatfan (BONUS)
12. all4ty
13. LoreenC
14. LoreenC (BONUS)
15. jcsmaestra
16. jcsmaestra (BONUS)
17. Karyn_Sue
18. emmapaige
19. emmapaige (BONUS)
20. Deanna13
21. Retiree3
22. Donna_Coughlin
23. Donna_Coughlin (BONUS)
24. LoreenC
25. lissahope26
26. karen c.
27. karen c. (BONUS)
28. traveler
29. traveler (BONUS)
30. Tammey
31. Sandi0805
32. oceanbreezes423
33. oceanbreezes423 (BONUS)
34. hsblair
35. hsblair (BONUS)