OMGosh...you ladies rocked this challenge. I am giving out 2 gift cards since there are 26 amazing enteries.
Per random.org this months winners are
# 21 blfonty/Bonnie
and
# 14 scrappinmom99/Anne-Marie
. Congrats ladies I will send your gift cards asap.
Each month depending on my mood is what the challenge will be. It could be a recipe challenge, quote challenge, technique challenge, movie inspiration challenge, etc... I might run the same challenge for more than a month or change it up(the mood thing again). lol
Round and round...what goes around comes around...I was listening to some old rock music and heard this song. It made me think of circles, all the circles. LOL So for this month you must used 5 or more circles in at least 3 different sizes. The can be die cut, punched, brads etc. 
Example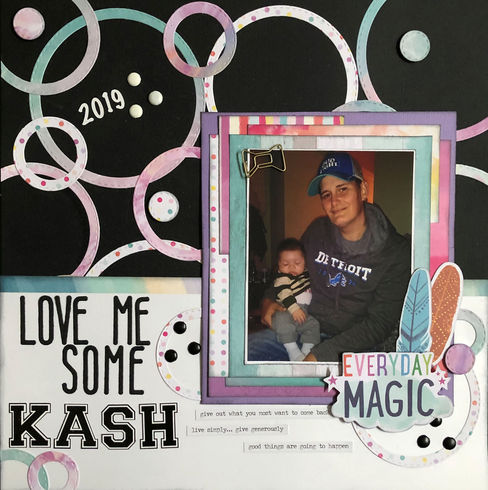 For the fine print....
This can be a paper or digital layout, pocket page, or card.
All work must be new. 
One entry per Cherry
.
You may combine with one other challenge that allows that.
Please link your work here. Deadline is Jan 31,2021.
A random winner will be selected for a $5 ACOT gift card from me!
***Please remember only one entry per cherry. I want to keep it fair for all the entrants. ***
Any questions or if I forgot anything please ask or tell me.
PARTICIPATING CHERRIES
1. MTCanuk/Leslee
2. 1scrappymom/Shannon
3. Donna_Coughlin/Donna
4. Retiree3/Donna
5. shoorn/Susan
6. all4ty/Pam
7. lissahope26/Melissa
8. MrsFleck/Mrs Fleck
9. traveler/Louise
10. jisparks/???
11. Scrappyqueen141/Jamie
12. Aztam/Tam
13. Deanna13/Deanna
14. scrappinmom99/Anne-Marie
15. Krystle/Krystle
16. aheatfan/Kristin
17. Vicki R./Vicki
18. joannie/Joannie
19. LoreenC/Loreen
20. ScrappyDistractions/Lisa
21. blfonty/Bonnie
22. sherriscraps/Sherri
23. CathyG89/Cathy
24. Sandi0805/Sandi
25. scrapsteph/Stephanie
26. emmapaige/Chris