Thanks to everyone who participated this month.  All the layouts were very creative.  The winner for January is:  Krystle.  Conrats Krystle.  Your gift card is being ordered now.  Let me know if  you don't get it.  
I've decided to bring this challenge back in place of the color challenge.  This was one of my favorite challenges from back in 2011.  Each month  I will alternate between odd and even numbers to mix it up some.  This month will be odd numbers.  Hope you like it as much as I did.  
PLEASE READ THE RULES:  Some of the layouts being submitted may not have understood the rules.  If you have questions, please ask on this thread or send me a pm.  Here's the rules:
For this challenge you will need to use 1 of something, 3 of something, 5 of something and 7 of something.  These have to be exact.  (Ex:  You cannot have 6 enamel dots and say that is for 5 of enamel dots).  Some of the things that will not count for example are  # of people in a photo or # of pages in a layout and # of petals on a flower.   Again, if not sure what might count ask.  I have had many ask me in prior months if something would or would not be acceptable.  I'm pretty flexible in that aspect.  You are allowed to have other items on your page, but only after you have met the 1-3-5-7 requirements.  
Example of what you could use on your layout:
    1 photo
    3 patterned papers
    5 hearts
    7 enamel dots
Here's a layout that I did in September 2020 of one of my granddaughters Senior Pictures.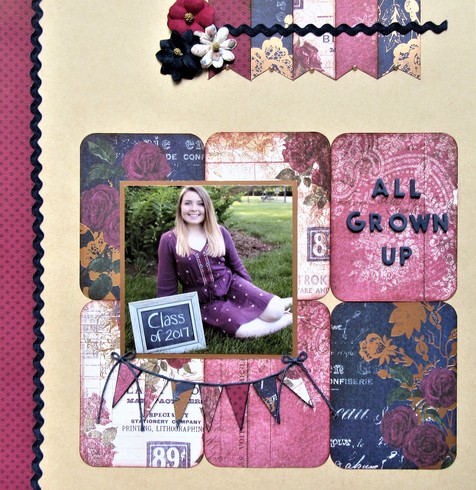 I used the following:    
    1 photo
    3 word title or it could be 3 flowers at top
    5 notched banner strips across top or the 5 pearl dots
    7 triangle banner under picture (wood pieces that I covered with patterned paper)
Bonus entry if you scraplift any of my layouts.   Does not have to be the example.  Must post the layout you lifted along with yours.
Bonus entry if the theme of your layout is a December activity or Christmas.  December activities could be putting up the tree, baking, Christmas at the Zoo etc.
Rules:  
Solid background paper and photo mats are freebies.
You may use other items as long as the above requirements are met.
New layouts only and can be either a 1 or 2 page layout.  Sorry, no cards.
Can be combined with any challenge that allows combining.
Multiple entries allowed.
Must post to this thread by 01/31/21.
If you have any questions, either post your questions here in this thread or send me a pm.
One lucky winner of this Challenge will receive a $5 ACOT gift card. 
Have fun and can't wait to see what you create.
Cherries participating:  
 1.    Retiree3
 2.    Retiree3 (bonus)
 3.    blbabe1234
 4.   1 scrappymom
 5.   1 scrappymom (bonus)
 6 .   ScrappyDistractions 
 7.    ScrappyDistractions (bonus)
 8.    LoreenC.
 9.    LoreenC. (bonus)
10.   Deanna13
11.   Lissahope26 
12.   Lissahope26 (bonus)
13.   Lisssahope26 
14.   Lissaphope26 (bonus)
15.   All4ty
16.   All4ty (bonus)
17.   aheatfan
18.   aheatfan (bonus)
19.   aheatfan (bonus)
20.   Scrapqueen141 
21.   Wendy Crowe
22.   jisparks
23.   Joannie
24.   Pawprints
25.   Pawprints (bonus)
26.   Donna_Coughlin
27.   Donna_Coughlin
28.   Scrapqueen141
29.   Tammey 
30.   Joannie
31.   Krystle
32.   Krystle (bonus)
33.   aheatfan 
34.   Deanna13
35.   Joannie
36.    Joannie (bonus)
37.    Aztam
38.    Emmapaige 
39.    Wendy Crowe 
40.    Jaire
41.    ajmaluck