I enjoyed everyone's layouts featuring all the red and pink and love for the furbabies! Random.org selected #2 aheatfan/Kristen! Congrats Kristen! A gc is on its way! Enjoy!
Thank you to everyone who participated!
************************************************************************************************
Hello everyone! Everywhere you go, you see pink, red, white, black, hearts and LOVE all over the place in February. And we all LOVE our furbabies! This month's challenge is full of choices. I'd like for you to choose from the following:
Pink OR Red OR Both
Hearts OR Doily OR Both
"Love" or "xoxo" OR Both in your title or a quote or your journaling. If its hard to see it, please point it out.
In my example, I chose PINK, DOILY and "LOVE" in my title. I also used a gold enamel heart and hearts in one of the pattern papers. The photo is of Jasmine and Shelby snuggling with each other. I adore that photo so much. Makes me remember that they aren't always crazy monkeys. LOL.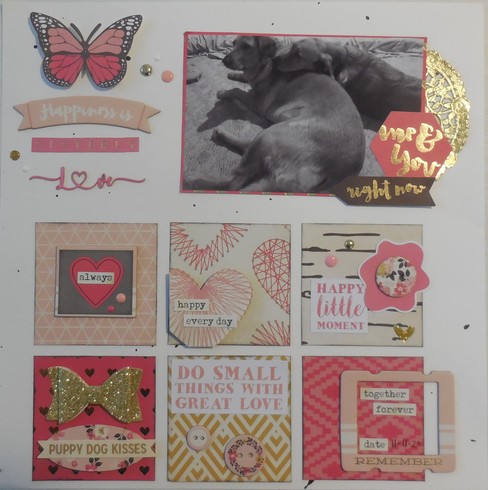 Here's a few rules:
1.Choose from the following to showcase your furbabies: Pink OR Red; Hearts OR Doily; and "Love" or "xoxo" in the title or your journaling. As long as you have at LEAST one of each of the choices, you can do both. For example, you can use pink and red, hearts and a doily and Love in your title. 
2. Paper and Digital layouts are acceptable.
3. Must post here by Feruary 28th  at 11:59PM
4. You may combine with one other challenge if they allow it
5. You may do this challenge up to THREE times
6. One random winner will receive a $5 gc to ACOT
7. BONUS entry: If you do all choices - Pink and Red; Hearts and Doily; and "Love" and "xoxo", you get a 2nd entry.
If you have any questions, please PM me.
Have fun!
Participating Cherries:
1. Donna_Coughlin/Donna
2. aheatfan/Kristen
3. aheatfan/Kristen *Bonus
4. Colie 33/Colie33
5. Colie 33/Colie33 *Bonus
6. MrsFleck/beccafleck
7. MerryScraps67/MerryScraps67
8. tmp718/Tammey
9. tmp718/Tammey *Bonus
10. LoreenC/Loreen
11. sherriscraps/Sherri
12. wimom/Rhonda
13. mgehrke/Mildred
14. mgehrke/Mildred *Bonus
15. Joannie/Joannie
16. traveler/Louise
17. art_teacher/Laura
18. hsblair/Holly
19. Linda-1949/Linda S
20. Linda-1949/Linda S *Bonus
21. CynthiaB/Cynthia
22. Cynthiacorbett/Cynthia
23. Cynthiacorbett/Cynthia *Bonus
24. retiree3/Donna
25. retiree3/Donna *Bonus
26. Deanna13/Deanna
27. Deanna13/Deanna *Bonus
28. pawprints/Barb